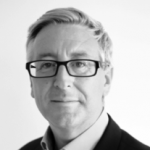 Stuart Smith, DPhil
​Global CEO at Ogilvy Public Relations​
Bio
Dr. Stuart Smith is the Global CEO of Ogilvy Public Relations. Stuart Smith has over twenty-five years' experience in communications and marketing. In that time he has held senior positions within consultancies and in-house and has worked across many industries and geographies in both the private and public sectors.
In his role as CEO of Ogilvy PR he has driven a growth strategy to improve talent, innovate in social and content, extend the network's geographic reach and improve service to clients on all levels. One result of which is that Ogilvy PR EAME topped the Holmes Report Creativity Index for the second year running in 2014. He led Ogilvy PR to be named pan-EMEA Agency of the Year (2014). He was one of the earliest advocates for PR embracing the digital world and is known for his point-of-view on the future of public relations in an increasingly social and content-led world. He is a keen follower of the changing face of the media and its business model and how this is influencing the art and science of marketing.
His experience of strategy and planning across earned media spans a wide range of disciplines: integrated communications, change management, M&As and rebranding; crisis management and issues preparedness; organisational effectiveness audits; communications and marketing; issues-led and public affairs campaigns; managing stakeholder relations across a range of NGOs; and the alignment of internal communications with brand repositioning programmes. Stuart's specialism is corporate communications and he is responsible for spotting and naming the new trend of corporate-to-consumer communications (C2C). He provides strategic leadership for corporate clients across the global network. He has recently helped major organisations re-engineer their crisis teams and responses to take account of the revolution in social media. He also would like to claim the first use of social media tools for collaboration built into an innovative Web 2.0 issues and crisis management application for a FTSE 100 company. He is working with clients such as Nestle, Nescafe, Reed Smith, Merck, AngloAmerican and AMEX.
Most recently he headed H+K Strategies EMEA corporate practice. Previously he was CEO of Edelman UK which he grew organically and by acquisition to be the network's third largest office.His clients include: Microsoft, Procter & Gamble, UPS, Clifford Chance, DuPont, Orange and InBev. He also spent over four years as the head of corporate marketing and public affairs at 3M UK—where he published one of the UK's first environmental reports.
Stuart holds a doctoral research degree from Oxford (Christ Church) in Physical Sciences. His first position was with Burson-Marsteller where he established and grew the Environmental Affairs practice.
Stuart speaks regularly on public platforms. When he finds time he likes to write about the industry and its future. He is also often a judge for the SABREs, PRWeek and Dubai Lynx and European Excellence awards.