NYSCF Innovators Find Clues to Stem Cell Life and Death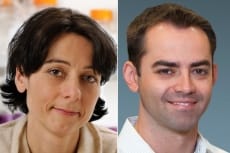 NYSCF – Robertson Stem Cell Investigator Dr. Valentina Greco and NYSCF – Druckenmiller Fellow Dr. Panteleimon Rompolas and their team from Yale University discovered clues to how stem cells regenerate and die while studying mouse hair folicles. The researchers found that the area around the stem cells, called the stem cell niche, plays a critical role in whether the stem cells live or die.
These findings, published in Nature, could lead to a better understanding of how stem cells are maintained throughout the body.
Read about the research in Yale News >>