NYSCF Multiple Sclerosis Research Featured in Neurology Today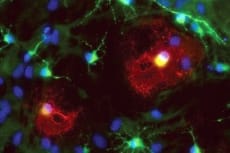 Neurology Today featured NYSCF – Helmsley Investigator Dr. Valentina Fossati's latest research on multiple sclerosis in a larger story about Dr. Fossati and her personal commitment to see new treatments and cures to the clinic.
The research, published in Stem Cell Reports, describes the development of an accelerated protocol to derive oligodendrocytes, the myelin-forming cells lost in multiple sclerosis, from induced pluripotent stem cells made from skin samples of patients with primary progressive multiple sclerosis. This accelerated protocol vastly reduces the time needed to make these critical cells, enabling an accelerated path to new research goals and ultimately, treatments, and cures.
Read the story in Neurology Today >>