NYSCF Speaks at London Meetings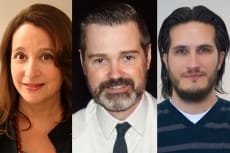 A team of NYSCF scientists and staff spoke about NYSCF and NYSCF's research programs at key meetings in London, England. NYSCF CEO Susan L. Solomon and NYSCF Investigators Dr. Scott Noggle and Dr. Danny Freytes presented NYSCF's latest research at a aspecial seminar at King's College London, the London Regenerative Medicine Network meeting, and at the World Stem Cells and Regenerative Medicine Congress.
These meetings brought together various key stakeholders in the stem cell community from the UK and all around the world to discuss the stem cell field and report on new research discoveries.
Read more about the London Regenerative Medicine Network Meeting >>
Read more about the World Stem Cells and Regenerative Medicine Congress >>