The NYSCF Conference Overview
The NYSCF conference is unique: it focuses on translational stem cell research, demonstrating the potential to advance cures for the major diseases of our time.
It is designed for all professionals with an interest in stem cell research, including physicians, researchers, clinical investigators, professors, government and health officials, postdoctoral fellows and graduate students. The panels on Wednesday are designed to reach a broader audience, including the lay public.
Speakers & Session Chairs
| | | |
| --- | --- | --- |
| Daniel G. Anderson, PhD | Richard Lifton, MD, PhD | Shahin Rafii, MD |
| José Baselga, MD, PhD | Tippi MacKenzie, MD | David Scadden, MD |
| Pete Coffey, DPhil | Esteban Mazzoni, PhD | Susan L. Solomon, JD |
| Shuibing Chen, PhD | Douglas A. Melton, PhD | Clive Svendsen, PhD |
| Valentina Fossati, PhD | Lauren Miller | Viviane Tabar, MD |
| Paul Frenette, MD | Rick Monsma, PhD | Takanori Takebe, MD |
| Elaine Fuchs, PhD | Hiromitsu Nakauchi, MD, PhD | Stephen Tsang, MD, PhD |
| Valentina Greco, PhD | Phillip Nelson | Gordana Vunjak-Novakovic, PhD |
| Valerie Horsley, PhD | Melissa Nirenberg MD, PhD | Irving Weissman, MD |
| Gordon Keller, PhD | Malin Parmar, PhD | Thomas Zwaka, MD, PhD |
| Henry Klassen, MD, PhD | Emmanuelle Passegué, PhD | |
Sponsorship, App, and Agenda
Conference Sponsorship Download App View Full Agenda
Pricing
Early
until 09/11/2017
Advanced
until 10/2/2017
Regular
from 10/3/2017
Commercial/Industry
$895
$895
$995
*Healthcare Professional (non-academic)
$400
$475
$550
*Non-Profit/Government/Academic
$325
$400
$475
*Residents/Postdocs/Fellows
$195
$225
$250
*Students
$45
$45
$55


*Proof of affiliation required
Co-Sponsor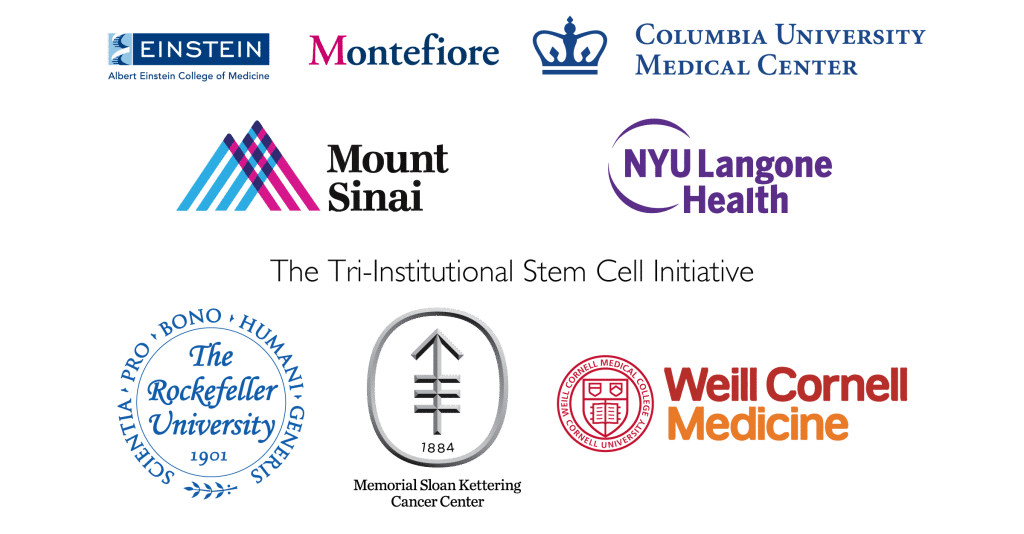 Principal Sponsor

Corporate Sponsors
Platinum

Gold

Silver

Bronze

General

Hotel Information
For the convenience of participants, discounted room rates have been arranged at The Bentley Hotel, starting at $297 per night.  To make reservations, please call The Bentley Hotel reservations team at 855-779-0220.  Please reference the New York Stem Cell Foundation to receive the group discounted rate. Guests may also book reservations online here. Reservations must be made prior to September 21, 2017 for this rate.
Refund / Substitution / Cancellation Policy
Your registration fee is refundable with a written cancellation, less a $75 administrative charge. No-shows are not eligible for a refund. If you register for, but cannot attend the conference, you may substitute another individual. All refunds and substitution requests should be made by written request to Ali Kean – Communications and Event Marketing Coordinator by September 30, 2017. Cancellation Policy: This conference is subject to cancellation. In the event that it is cancelled, NYSCF will refund your registration fee but will not be responsible for any airfare, hotel or other costs incurred directly by participants.
---
For Further Information, Please Contact:
Ali Kean – Communications and Event Marketing Coordinator
The New York Stem Cell Foundation Research Institute
619 West 54 Street, New York, NY 10019
Email: events@nyscf.org. Tel: (212) 365-7425, Fax: (212) 787-5844