NYSCF Innovators Forge New Connections at Annual Retreat
What one word would our Innovators use to describe the NYSCF community?
"Family," said NYSCF – Robertson Neuroscience Investigator and Stanford University Assistant Professor of Neurobiology Lisa Giocomo, PhD. "Scientific family."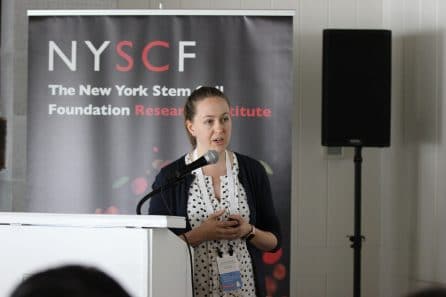 At the annual NYSCF Innovators Retreat, the NYSCF – Robertson Investigators and NYSCF – Druckenmiller fellows gathers for the ultimate scientific family reunion: one filled with presentations and discussions on the most cutting-edge research in stem cells and neuroscience. Over the course of a week, Innovators from different facets of these fields get feedback on their work and share their goals, often leading to new collaborations and projects.
"Science is a community effort," reflected NYSCF – Robertson Stem Cell Investigator, CRISPR pioneer, and Professor of Biological Engineering at MIT Feng Zhang, PhD. "There is the experimental aspect, but the bigger and more important aspect is relational. Interactions are how new ideas are formed and advancements are made."
This year's retreat featured talks on groundbreaking discoveries in neurodegenerative disease, gene editing, heart disease, mental illness, cancer, and much more. This incredible work is made possible by more than just funding — it's a team effort.
"The funding is great, but the community is worth so much more," remarked NYSCF– Robertson Neuroscience Investigator and Salk Institute Professor Kay Tye, PhD.
On the final night of the retreat, the graduating class shared their plans to further this sense of kinship and give back to the community they value so deeply. Their idea is a mentorship program, where Investigators in their last year of the program are paired with first-year Investigators to help guide the new class through what are often the formative years of their laboratories.
"This community always acts as champions for one another," noted NYSCF – Robertson Stem Cell Investigator and Carolyn Walch Slayman Professor of Genetics at Yale University Valentina Greco, PhD. "Once you are a part of it, you want to make sure that everybody thrives."