Dr. Gist Croft Joins NYSCF to Lead Parkinson's Disease Research
News
We are pleased to announce that Gist Croft, PhD, has joined NYSCF as a Senior Principal Investigator in Parkinson's disease and Neurodegeneration. Dr. Croft— an expert in neurodevelopmental biology, stem cell biology, and neurodegenerative diseases— will lead NYSCF's Parkinson's disease research group to elucidate the cellular mechanisms behind the disease and develop new treatments.
Dr. Croft helped develop the first human stem cell models of ALS as a neurobiology PhD student at Columbia University (TIME magazine's top medical breakthrough of the year and the Science magazine Breakthrough of the Year in 2008), where he specialized in controlling neuronal differentiation and defining new assays for stem cell derived neurons. During his postdoctoral work at the Rockefeller University, he established a new system to study early human embryo development (a Science magazine Breakthrough of the Year, 2016) which illuminated human implantation stage development for the first time. While at The Rockefeller University, Dr. Croft was also Director of their Human Pluripotent Stem Cell Core Facility, and led a study to create a CRISPR-based stem cell model of Huntington's disease that revealed new aspects of the disease, including its effects on the earliest stages of brain development.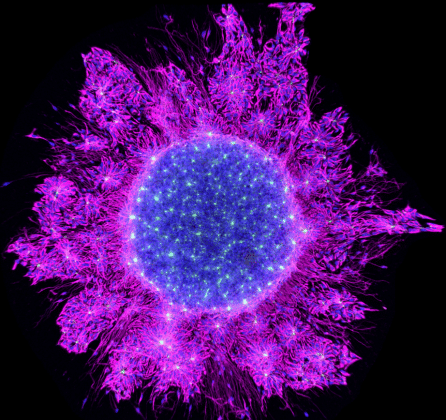 At NYSCF, Dr. Croft will work with induced pluripotent stem cells to recreate Parkinson's disease in a dish, through which he will study the behavior and interactions of various brain cell types affected in the disease. He will also use stem cell models of Parkinson's to test drugs and develop new therapies.
"We are very excited to welcome Dr. Croft to the NYSCF team to accelerate our search for cures," says Susan L. Solomon, NYSCF CEO. "With the recent additions of Dr. Croft leading our Parkinson's research in the lab and our Chief Medical Officer Dr. Melissa Nirenberg leading our clinical research efforts, we are intensifying our neurodegeneration research program towards a renewed understanding of these diseases and rapid discovery of new therapeutic strategies."
Dr. Croft is excited to join the NYSCF team and begin this new chapter in his research career.
"I've spent my career exploring the mechanisms behind neurodegenerative diseases like Huntington's, ALS, and Parkinson's. These patients are in dire need of better treatments, and developing better treatments starts with understanding a disease's pathology," says Dr. Croft. "NYSCF is a premier stem cell research institution with unique technology, infrastructure, a diverse collection of cell lines, genome editing experience, and a strong commitment to innovative disease research – making it the perfect place to explore causes and treatments for neurodegeneration."