Interview with NYSCF-Druckenmiller Fellow, Daylon James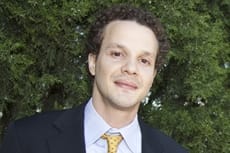 NYSCF-Druckenmiler Fellow, Dr. Daylon James, had his research on endothelial differentiation and expansion published in Nature Biotechnology on January 17th. In this interview, Dr. James talks about his new work and his life as a stem cell researcher.
Did any experiences in your childhood shape your interest in science and medicine?
One of the first books I read as a kid was "Dawn", by Octavia Butler. It was a fantastic imagining of a future in which an alien race could splice genes on the fly and modify their fitness to new environments within a generation. The descriptions of these aliens "feeling" the genome and cutting and pasting sequence was so vivid, it still gives me a shiver. After reading that book (I was ten), I responded to the periodic "what do you want to be when you grow up?" with "genetic engineer."
How did you end up becoming a scientist? Did you always want to be a researcher?
I think I, like many young people, imagined what I would be in the finished form, with little attention to the training it would take to fill that mold. I have long wanted to be a scientist, and the becoming has involved many defining experiences that are shared among postdoctoral researchers. But long before I got the degree, "wanting to become a scientist" was supplanted by "wanting to solve the problem." An ironic twist of "wanting" anything is that we rarely lack for further reaches. I think the reward of a career in stem cell biology is the satisfaction of addressing so great a problem as human disease with such an elegant and wide-ranging approach as cell-based therapy. Although I could not have imagined the reality of my career as a child, I believe that I always wanted then to enjoy my work as I do now.
What disease are you specifically working on and how did you choose that disease?
My focus is the creation of endothelial cells (cells that make up blood vessels) for treatment of vascular disease. Cardiovascular disease is the leading cause of death in the developed world, and diabetes has become an unfortunate byproduct of modern lifestyle, posing a severe health threat. These are ultimately diseases of the vascular system, and providing an inexhaustible source of endothelial cells could provide of means of restoring blood supply to dead or dying tissues that coincide with disease. More fundamentally, blood flow is a pre-requisite for generation of viable three-dimensional tissue, and as such, endothelial cells may be an essential adjuvant to therapeutic grafts of organ specific cells.

How many hours per week do you spend at the lab? Can you describe how you spend your time professionally? How is your time distributed over research, teaching, committee work, lecturing or presenting, and traveling?
An unexpected benefit of working with embryonic stem cells is that it has been perfect training for becoming a father (my son was born this past fall). I have often remarked that taking care of my cells is like having a baby: you have to attend to them everyday and you can't just take weekends off. Incidentally, I have recently come to understand that my analogy drastically underestimated the challenges of parenthood. Nevertheless, stem cell research demands considerable time and routine, but more than those things, good science demands focused attention. The hours spent in the lab are modest (50-60/week), but the time spent "at work" is more, for it is my privilege and pleasure to take my work everywhere I go, even if it is only in mind.
What qualities do you think distinguish scientists from other professions (lawyers, doctors, academics, etc)?
I would say imagination, but I think that the most forward thinking in any profession are endowed with a rich imagination, and I have known scientists who seemed completely devoid of it. Indeed, it has become increasingly difficult to find the archetypal stereotype of the research scientist. I think this is a positive development, as it reflects a shift in our cultural perception of scientists from solitary figures with esoteric knowledge, to central players in defining, communicating and solving the problems that face our people and our world.

What is your new paper about?
There are many fundamental obstacles confronting the effective clinical trial of vascular therapies in humans. First, we need a source of pluripotent stem cells that is safe and matched to the patients' immune system. With advances in induced pluripotent technology (some made by our own NYSCF Fellows), we have made rapid progress toward overcoming these obstacles. In parallel to these studies, we , and endothelial cells generated from hESCs, to date, have not been suited for clinical application. In our study, we have defined conditions for differentiation and expansion of plentiful endothelial cells that are appropriate for therapeutic use. To do this, we created a hESC "reporter" line, in which cells expressed a fluorescent molecule once they differentiated to endothelial identity. Using this reporter, we were able to monitor the emergence of endothelial cells in live cultures, and screen for small bioactive molecules that increased their yield. By these methods, we isolated a compound that robustly increased the amount of endothelial cells and defined this compound's mechanism of action.
Why is your work in the paper important and why is it exciting? What impact will this have on the field of stem cell research?
In recent years, progress toward therapeutic dividends of embryonic stem cell research has made tremendous strides. A major breakthrough has been the routine generation of patient matched pluripotent stem cells, which has allowed modeling of human genetic diseases in vitro. The hope is that patient specific stem cells can also provide cell-based therapies, but much work remains before the yield, purity and functionality of specific hESC derived cells meets a safe and effective threshold. Our work has established a standard methodology for generating functional endothelial cells from hESCs using conditions that are suited to clinical application. These cells can now be routinely and economically produced on scales that make pre-clinical assessment of their efficacy practical in large animal models of vascular disease.