Learning About Stem Cells and Themselves: Meet the 2021 Summer Interns
News
For the nineteen students interning at NYSCF this summer, the experience was unlike any internship they've had before.
Whether it was working hands-on in the lab to conduct disease research or contributing remotely to a variety of NYSCF's projects in communications, business development, legal, and more, our interns expressed that they felt they learned a lot and made a real difference for their team, and their mentors agree.
"I am always blown away by the talent and dedication that these students show, and by the transformational impact they make on the work we do here," said Richard Ha, Associate Director of External Programs.
Projects with Big Impact
For some interns, this summer was their first time stepping foot in a lab.
"My first impression of the lab was like, 'I'm never going to go in there' because I just assumed there was no chance any interns – especially ones in high school like me –  would be allowed around all this high-tech equipment," remarked Daisy Nussbaum, a student at The Chapin School who worked on NYSCF's genomics team. "However, I ended up spending most of every day in the lab, which was so exciting."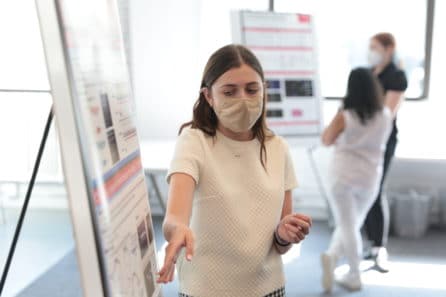 "This was my first time working in the lab as well," added Ria Chowdhry, a student at Horace Mann School who worked on NYSCF's multiple sclerosis team. "So a lot of it was really new to me, but I got to be very independent and do a lot of the work on my own, which I don't think I would be able to do at many other places.
For many interns, the hands-on experience and opportunity to create new tools that will be used by scientists to accelerate research was incredibly rewarding.
"I really felt like I was able to contribute as an intern and make a real impact by building a completely new tool for NYSCF's software system," said Neil Kennedy, a student at Columbia University who interned on NYSCF's software development team. "I loved that they trusted me to do this, and I learned a lot along the way."
"My plan here was to get as much hands-on experience as I could," added Grishma Bhattarai, a student at CUNY Brooklyn College who worked on the IT team. "My mentor allowed me to build a PC from scratch, which was challenging, but it was also so fun."
Along with real-world experience, interns are also provided with career mentorship and support, helping them set the stage for the next steps in their professional journeys.
"I feel more prepared to enter the workforce because with this program, I've been able to use a real world data set in the biomedical field," remarked Andrea Ceres, a graduate student at CUNY who interned on the data science team. "What I've experienced at NYSCF is thoughtful attention to my career: things like resume reviews and presentation workshops. It's been really good to work on these important soft skills."
Making Formative Connections
All interns expressed that one of their favorite aspects of the internship was the connections they made with NYSCF staff and their fellow interns.
"I think my favorite part of the NYSCF internship was that it wasn't just a research internship: we got the opportunity to network with a lot of other people in the NYSCF community," said Srikar Dudipala, a student at Brown University who worked on NYSCF's Parkinson's disease team. "It was just such a collaborative and welcoming environment. I came in knowing almost nothing about the field of stem cell research, but by asking questions and talking with those around me, I was able to learn so much not just about my project, but also about the scientific community as a whole and careers in STEM."
"One of the biggest skills that I learned here is the importance of networking," agreed Hanna Giblin, a student at the University of Charleston who worked on NYSCF's scientific communications team. "Everybody tells you it's a really important skill to have, but until you put it into practice, you don't realize how many opportunities can come from reaching out to people, taking that first step and just saying hello. I learned about careers that I didn't even know existed and made new friendships with NYSCF staff and other interns."
"Even though I was working with the legal and the business development teams predominantly, I was encouraged to also reach out to scientists and engineers," said Joy Fan, a student at Columbia University. "I really enjoyed learning from people doing different things to push science forward."
A Formative Team Science Approach
An internship at NYSCF is unique in many ways, but what really stuck with this class of interns was the collaborative, 'team science' nature of NYSCF's work.
"My previous internships have been in university labs, and what was different here was the amount of collaboration that I saw between groups, between teams, and between scientists," noted Matt Weiss, a student at the University of Michigan who interned on the cell production team.
"My favorite part of my internship was seeing how the team works together to come up with new methods and ideas for experiments," said Alex Rolfness, a student at the California Institute of Technology who also worked on the cell production team. "I sat in on this one meeting where they were designing a new method on the robot for blood processing, and seeing all of the engineers and scientists in the same room writing on the whiteboard and working through the possibilities was really cool."
Looking to the Future
Now that the Class of 2021 have completed their internships and headed back to school, they are doing so with a renewed passion for science and new ideas about their futures.
"You learn so much about basic science in college, but then like actually going here, working at NYSCF and seeing how these abstract scientific concepts go from the bench to the clinic is really impressive," said Miles Tran, a student at New York University who worked on NYSCF's cancer team. " I think it's something I'd like to continue working on in the future."
"This internship made me realize that I actually don't know exactly what it is that I want to do," said Divya Swaminathan, a student at the University of Maryland, College Park who interned on the cancer team. "I came in as a pre-med student, but I've found that I really loved the research environment. The reason why this internship is so incredible is because NYSCF introduces you to a lot of new things that you would never see anywhere else. I think that's made me realize that I don't really know where my future is going to go, but that's not a bad thing."
"One thing NYSCF did to fuel my career was show me how capable women can be," remarked Joy. "NYSCF has a great representation of strong women leading their respective fields. It's this diversity and inclusion that really motivates me to pursue not only patent law, but also leadership roles in the future."