The mission of The New York Stem Cell Foundation is to accelerate cures for the major diseases of our time through stem cell research. Since our founding in 2005, NYSCF has achieved outsized results in a relatively short period of time, thanks to private philanthropy.
We realize our mission through three main avenues: 
Accelerating Stem Cell Science at the NYSCF Research Institute
The NYSCF Research Institute Is an independent non-profit accelerator that bridges the ongoing gap between research institutions and pharmaceutical and biotech companies by reducing the cost, time, and risk that historically inhibit the development of new treatments and cures.
NYSCF has created not only foundational tools for using stem cells in basic research, but also pioneering stem cell technologies that will allow stem cells to be used therapeutically. By pursuing and supporting only the most promising stem cell research and technologies, in our own laboratories and in partnership with leading institutions around the world, NYSCF serves as a catalyst in this transformational field.
The ultimate goal of stem cell research is to enable precision medicine, which works by getting the right treatment to the right patient at the right time. Stem cells make precision medicine possible by allowing us to understand how different diseases affect different people and to test or develop treatments on the actual human cells affected by a disease.
To achieve precision medicine, we need to study cells from a lot of different people. Our scientists achieve this via The NYSCF Global Stem Cell Array® ("The NYSCF Array"), our automated stem cell robotic platform that creates stem cells at a scale representing the diversity of large patient populations. The scale of The NYSCF Array allows us to increase the number and complexity of studies we can perform on these cells, gaining unique insights into how diseases work and testing large amounts of drugs.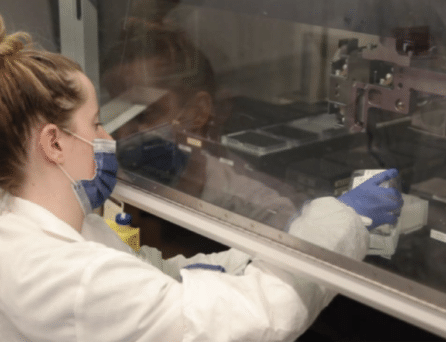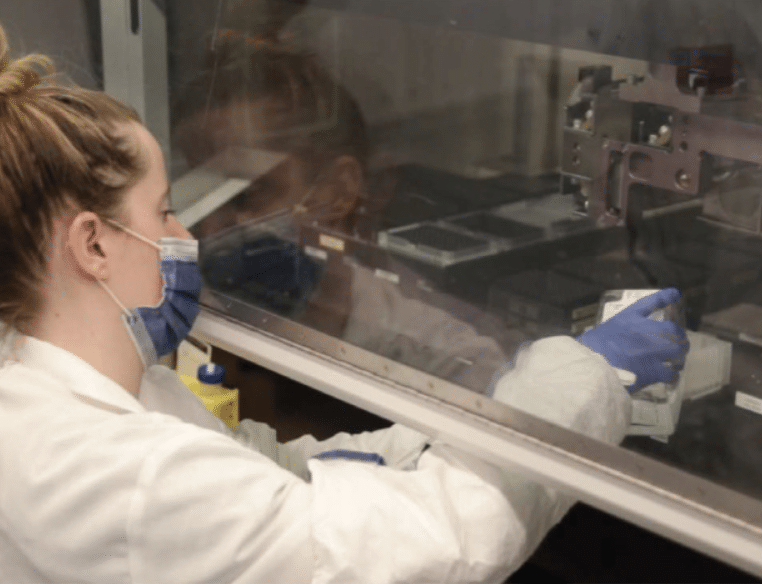 By integrating artificial intelligence in robotics, we are improving the quality and efficiency of cell line production.
We can also leverage artificial intelligence in medicine –  using The NYSCF Array to pick up on disease features imperceptible to the human eye. These can then be used to develop new intervention strategies that would be otherwise overlooked, accelerating drug discovery and advancing the most promising treatments to the clinic.
Explore our stem cell research in the following areas:
Alzheimer's Disease   Diabetes   Macular Degeneration   Multiple Sclerosis   Parkinson's Disease   Women's Reproductive Cancers
Supporting Leading Researchers Worldwide
NYSCF champions and convenes many of the world's top scientists and the broader stem cell community with our Postdoctoral Fellowship and Investigator Programs, as well as our annual conference and Initiative on Women in Science and Engineering (IWISE).
Through our Postdoctoral Fellowship and Investigator Programs, NYSCF supports exceptional early-career researchers leading pathbreaking stem cell and neuroscience groups. This seeds the talent pipeline for future discoveries and creates an international community of leading scientists, who collaborate extensively. 
To foster collective progress and communication throughout the biomedical research field, NYSCF hosts a leading annual scientific conference focused on translational stem cell research, as well as an annual retreat for our Innovator community.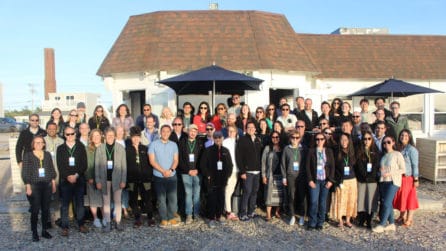 NYSCF aims to clear barriers to success for women in science with our Initiative on Women in Science and Engineering (IWISE). This program has established actionable strategies for advancing women in science and implemented a Report Card for Gender Equality to collect qualitative and quantitative data on gender representation from the departments of all applicants to our extramural grants program.  
Advancing STEM Education for Everyone
NYSCF democratizes access to science education for students and the public through the NYSCF Academy for Science and Society, which encompasses our internship program, Summer Immersive for high school students, lab tours, event programming, and more.
Our STEM internship program provides approximately 20 high-achieving, diverse students with a paid ten-week STEM summer internship. This internship for high school students, undergraduate & graduate students, and recent graduates gives participants a rare glimpse into the fast-paced world of stem cell research, insight into life at an entrepreneurial nonprofit research institute, exposure to career opportunities in science, and connections to valuable professional and peer networks. Internships are available in laboratory research, data science, engineering, and nonprofit programs and administration.
We champion STEM in early childhood education and beyond, hosting an annual Family Stem Cell Day where students grades K-12 to learn about research, tour NYSCF's labs, and participate in science-themed activities (everything from digitally coloring cell images to making slime). We also have virtual classrooms for all ages as well as an activity center on stem cells and neuroscience for kids]!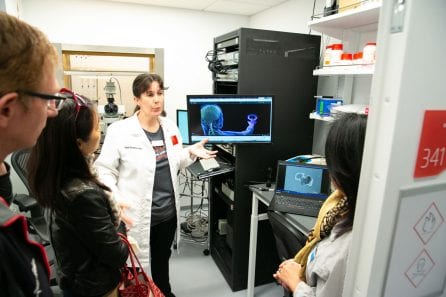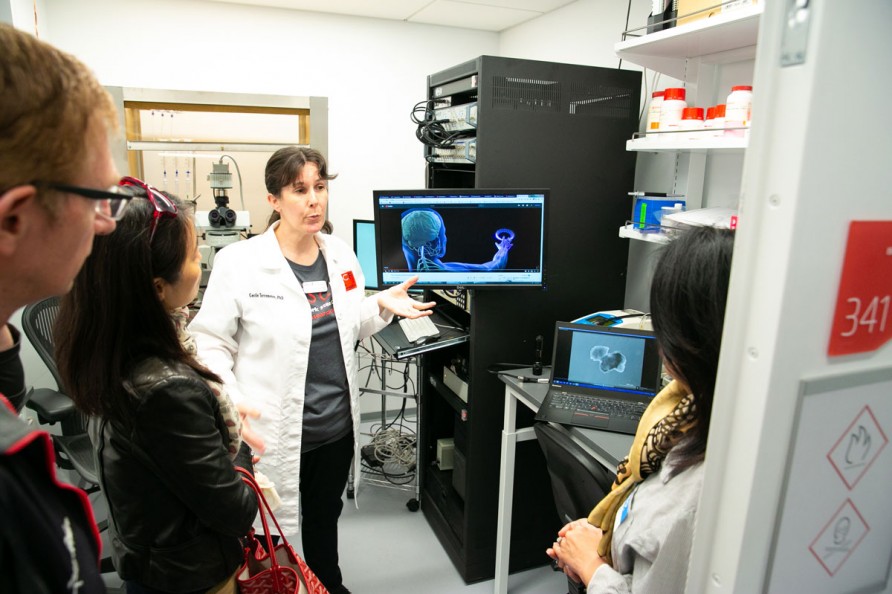 Throughout the year, we host laboratory tours and career guidance panels for schools and other nonprofit educational programs, often including students from underserved communities. The tours give students a firsthand look at a scientific laboratory and an opportunity to meet the diverse team of NYSCF scientists and to explore the wide variety of career opportunities in this fast-paced field.
We regularly host public events that bring world-leading scientists to our headquarters for presentations and panel discussions on their groundbreaking work, because we believe that STEM education is important for the success of biomedical research. These events are attended by scientists and members of the public – including patients and their families – and guests are invited to ask questions, share ideas, and engage in thoughtful discussions. 
Explore the NYSCF Academy for Science and Society here.