The Road to Equity in Science: Reflections for Women's History Month
How can the progress we've made teach us to overcome the challenges that remain?
It is vital to scientific progress that all of the brightest minds in our field have the opportunity to contribute, making all of the historical advances towards gender equity in STEM incredibly important. From the trailblazing women and gender minorities who set examples of success, to the normalization of inclusive policies and language, to the confronting of toxic environments revealed by the #MeToo movement, there is much progress to celebrate and many lessons to be learned. The work ahead of us is to transfer the ingredients for those achievements into our continued efforts to level the playing field.
In honor of Women's History Month, join us for a fireside conversation between equity advocates Maike Sander, MD (Max Delbrück Center, Berlin, Germany) and Raeka Aiyar, PhD (NYSCF) who will discuss the amazing progress towards gender equity in science in recent years, and ways to tackle the challenges ahead in realizing the dream of a truly equitable field, where impact is not limited by identity.
Panelists will discuss:
What lessons can we apply from history's advances towards diversity, equity, inclusion, and belonging (DEIB) in all communities?
How can we empower women and gender minorities in science to transcend the leaky pipeline and reach their full potential?
What culture changes are necessary to improve and maintain diversity in STEM?
Read highlights from the event here.
Panelists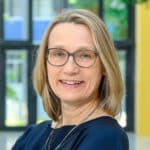 Maike Sander, MD
Scientific Director, Max Delbrück Center in Berlin, Germany
Professor of Pediatrics and Cellular & Molecular Medicine
Institute of Engineering in Medicine, UC San Diego
Dr. Sander is a leading stem cell scientist and diabetes researcher who has worked internationally and received numerous awards

She is a fierce advocate for DEI in science who uses her leadership to foster culture change
Full bio
Dr. Sander is an accomplished researcher, clinician, and DEI advocate. After graduating with a medical degree from the University of Heidelberg Medical School in Germany, she conducted research at the University of California, San Francisco. Before moving to UC San Diego in 2008, she held faculty positions at Hamburg Medical School, Germany and the University of California, Irvine. 
Her primary research interest is to understand the molecular mechanisms that underlie the formation and function of the diverse cell types of the pancreas, in particular the insulin-producing beta cells. A recent major focus has been to establish a human pluripotent stem cell-based pancreatic beta cell differentiation platform to model mechanisms that underlie the pathogenesis of diabetes.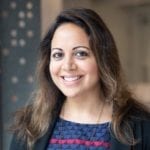 Raeka Aiyar, PhD
Vice President, Scientific & DEIB Outreach
The NYSCF Research Institute
Dr. Aiyar is an experienced geneticist and science communicator

She leads NYSCF's DEI strategy, including our internal affinity groups to support marginalized groups, our DEIB-focused events and communications, our initiative to build a diverse stem cell biobank, and our inclusive grantmaking efforts
Full bio
Dr. Aiyar is an experienced geneticist turned science communicator with a passion for advancing diversity in science. Trained in biology and bioinformatics at the University of Waterloo, she received her PhD at the European Molecular Biology Laboratory in Germany, where she used genomics technology to investigate new therapeutic strategies for mitochondrial diseases. Since then, Dr. Aiyar has dedicated her career to science communication, engaging a variety of audiences through writing, training, and outreach. As Director of Communications and Development at the Stanford Genome Technology Center, she led a range of efforts in patient outreach, scientific strategy, and collaboration building. In her current role, she oversees NYSCF's scientific communication initiatives, developing content for diverse audiences through print and digital media as well as event programming. Since 2020, she has led NYSCF's DEIB initiatives across internal affinity groups, events and communications, biobank diversification, and grantmaking.