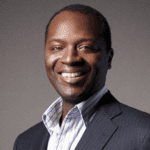 Clyde Williams
Bio
Clyde Williams' more than 30-year career in public service includes work for Presidents Clinton and Obama, the development of successful public-private sector partnerships nationally, and knowledge of federal programs that affect urban and rural communities.
Clyde served as National Political Director of the Democratic National Committee for President Barack Obama. During his stint at the DNC, he worked closely with state parties, national, state, and local elected officials.
In 2001, Clyde worked as Domestic Policy Advisor to President Bill Clinton, coordinating his post-presidential activities designing and implementing national programs focused on economic empowerment and education. The Harlem Small Business program that he created has since been replicated and expanded nationally.
Clyde served as Vice President for State and Local Government Affairs at the Center for American Progress, a progressive think-tank. He also launched a successful consulting firm, and in 2007, joined with business partners to acquire Dicon Technologies from Berkshire Hathaway. Clyde and his partners successfully relocated Dicon's operations to the U.S. from China, bringing manufacturing jobs back to the U.S.
During the Clinton Administration, Clyde served as Deputy Chief at Staff of the U.S. Department of Agriculture (USDA) – an agency that had an $18 billion budget and more than 100,000 employees. He also served in the Clinton White House as Deputy Director of Presidential Scheduling and at USDA as Assistant Press Secretary. Earlier in his career, he worked in local politics in Washington, D.C.
Clyde presently does public and strategic affairs work for various clients with his partner, as a principal of CEMK, Inc.
Clyde is a board member of the company City Health Works. He was a past board member of Dicon Technologies, and the then publicly traded company The Princeton Review. He serves on the non-profit board of the MAC Aids Fund, and served on the non-profit board of STRIVE International. He also serves on the advisory boards of Markup and Rentreever.
Clyde earned a Bachelor's Degree in Political Science, with a minor in Marketing, from Howard University.