Inspiring the Next Generation of Scientists: NYSCF Hosts Second Annual Family Stem Cell Day
News
"Who thinks I can power this lightbulb with just the electricity from my finger?" Dr. Cecile Terrenoire asks a crowded room of eager students.
About half believe it's possible ("Yeah! You can!") and half are more skeptical ("With your finger? No way.") As she touches the base of the lightbulb, it quickly brightens, as do the eyes of the students.
Dr. Terrenoire was teaching the students about how electricity in the body plays a key role in health and disease. At NYSCF's second annual Family Stem Cell Day, hosted with support from the Stavros Niarchos Foundation, students grades K-12 and their parents were invited to tour NYSCF's state-of-the-art labs and learn all about the wonders of human biology and stem cell research from scientists who work in this field every day.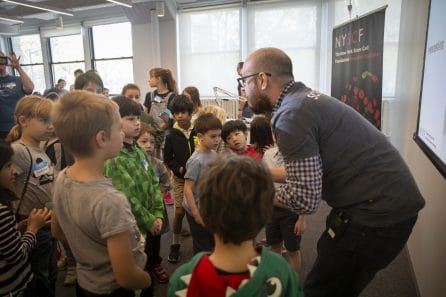 Exposing students to careers in STEM and sparking excitement about science is a central tenet of NYSCF's mission, as it will ultimately lay the foundation for the next generation of researchers and engineers. Events like Family Stem Cell Day are an important way to engage students with the research process and allow them to ask questions, showing them what it is like to be a scientist and the impact this job can have on society.
The day began with a presentation on stem cell research that provided students and parents with a tutorial on the basics of stem cells, what they can accomplish, and how scientists are using them to understand and treat disease.
Then, attendees were invited to visit each of the day's 14 stations, which illustrated different scientific concepts and gave them a glimpse into how NYSCF conducts research. Downstairs, students could make slime, digitally color cell images captured by researchers, create neurons from pipe cleaners, smash a flower frozen in liquid nitrogen, and dress up like a scientist for a photo booth.
"When I grow up, I'm gonna dress like this every day," remarked one future scientist confidently donning a lab coat and goggles.
Upstairs in NYSCF's labs, attendees could learn about different aspects of research—everything from robotics to growing bone to launching cells into space.
"Just like you need to eat every day, so do cells," NYSCF engineer Geoff Buckley-Heard told a group of students intently watching the NYSCF Global Stem Cell Array®  pipet liquid into a set of tubes. "The robots help us feed and grow the cells so we don't have to do everything by hand, which would take a very long time."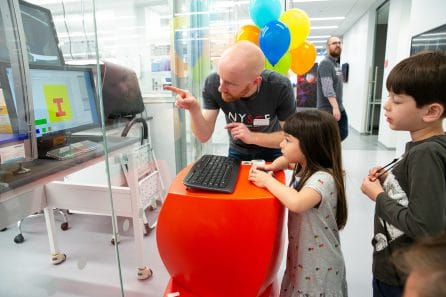 Students were also allowed an up-close look at the different cell types that can be created from stem cells and how they can be used to understand and treat disease.
"Look—it's an astrocyte!" remarked one student triumphantly returning to her friends with a brightly colored image of star-shaped cells she had created with the help of Dr. Valentina Fossati at the digital painting station. "They live in the brain," she explained, happily pocketing the photo into her bag.
Other stations included a lesson on how NYSCF is growing bone from stem cells, a chance for attendees to peer into high-powered microscopes, and to see for themselves the power of computer programming.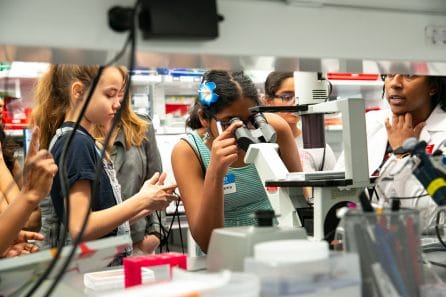 "I liked learning about how scientists can take pictures of the individual layers of cells and put it back together into a 3D image," said one ninth-grader.
"Yeah, they have a live camera to track the cells," added her classmate. "It's crazy."
Parents were similarly excited to learn about science, and to show their kids its applications.
"Events like this are a great way to get kids interested in science. Sometimes when you're reading what's in a book, it's hard to see how it will be applicable or benefit society, so I think today has really helped perpetuate their interest in the field," remarked one parent.
NYSCF VP of Stem Cell Technology Platforms Dr. Daniel Paull agrees with this sentiment and stressed the importance of events like Family Stem Cell Day for showing guests the power of science.
"It's on us to train the next generation of scientists," he remarked. "One of the things we do here is integrate many different fields of science such as engineering and biology. It's really important to show how all these different backgrounds interact, and it has been great to introduce people to things they didn't know existed."