Marissa Scavuzzo and Paul Tesar Are Showing That 'Helper Cells' Are Much More Than That
News
NYSCF – Robertson Stem Cell Investigator Alumnus Paul Tesar, DPhil, and NYSCF – Druckenmiller Fellow Marissa Scavuzzo, PhD, of Case Western Reserve University are determined to understand the nervous system, including its long-overlooked support staff: glia. Glia are important cells that live in our brains and intestines that help ensure neurons in both places can do their job of sending signals. Drs. Tesar and Scavuzzo are receiving high-level recognition for their work on these neglected cells.
While we are starting to understand better what glia do in the brain, their exact role in the gut is not well characterized. Dr. Scavuzzo aims to illuminate how glia are contributing to the gastrointestinal system, with implications for treating GI disorders. Her work just earned her the coveted Eppendorf & Science Prize for Neurobiology, which acknowledges the increasingly active and important role of neurobiology in advancing our understanding of the functioning of the brain and the nervous system.
"It's still surreal," Dr. Scavuzzo said in a press release from Case Western. "I am grateful to Eppendorf and Science for their recognition of my work, and will be forever grateful to my postdoctoral mentor, Dr. Paul Tesar, who played a crucial role in fostering my research in his lab. My long-term research goal is to understand the molecular underpinnings of enteric glia's functional states in both health and disease."
"Marissa is a superstar," said Dr. Tesar. "I am so proud of her for receiving this prestigious award that recognizes her groundbreaking science."
This isn't the only award Dr. Scavuzzo has received recently. Her poster presentation on this work won runner-up at the 2023 NYSCF Conference poster competition, which featured more than 100 posters.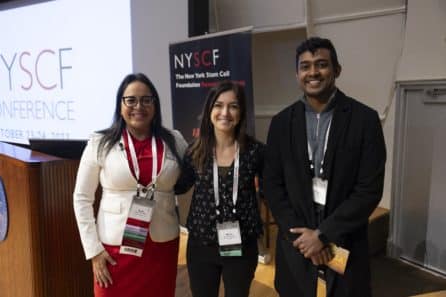 Dr. Tesar, winner of the 2017 NYSCF – Robertson Stem Cell Prize, has made seminal discoveries in work on glia that are advancing treatments for diseases like multiple sclerosis. He is developing a remyelination therapy for multiple sclerosis via his company Convelo Therapeutics, as well as a therapy for Pelizaeus Merzbacher disease, licensed to Ionis Pharmaceuticals, which will begin clinical trials in 2024.
Excitingly, Case Western School of Medicine recently announced they will launch an Institute for Glial Sciences, which will be directed by Dr. Tesar. 
"The Institute for Glial Sciences is a manifestation of our collective aspiration to deepen the understanding of glial cells," Dr. Tesar said in a press release. "These integral components of our nervous systems have long been overshadowed, and through the institute, we aim to shed light on their complexity, developing treatments that could revolutionize how we approach neurological care."
"The Institute for Glial Sciences aims to build from recent accomplishments," he continued, "propelling new breakthroughs in glial science and offering new hope for treatment of neurological diseases."
When they aren't getting to the bottom of glia, you can find Drs. Tesar and Scavuzzo out in the community, bringing science to young students and advocating for more diversity in the field. Dr. Scavuzzo co-founded a program called Rise Up: Northeast Ohio that brings hands-on science to classrooms in the area.
"We're really getting kids excited about science and learning, and really being able to design their own experiences," Dr. Tesar told ABC News, Cleveland.
"We hope that they walk away knowing they can be scientists, but they can also do anything that they want to and a lot of these skills are things that can apply to any career." added Dr. Scavuzzo.
Read more about Dr. Scavuzzo's research here.