NYSCF Hosts Panel Discussion on the Future of Alzheimer's Research and Treatment
News
Video
44 million people worldwide are affected by Alzheimer's. 1 in 3 seniors will die with it or a related dementia. The cost of treating Alzheimer's is expected to quadruple, to more than $1 trillion in the U.S. by 2030, if no breakthrough treatments reach the market.
Watch the panel discussion and discover how stem cells are helping researchers overcome traditional limitations to Alzheimer's research.
Alzheimer's is devastating, but scientists, caregivers, and advocates are optimistic. Innovative research that approaches the disease from new angles is inspiring hope for a brighter future—a future that the panelists at NYSCF's recent event ("Alzheimer's Disease: The Path Forward") believe is on the horizon.
NYSCF CEO Susan L. Solomon kicked off the discussion by highlighting the impact of Alzheimer's on society as well as NYSCF's unique capabilities for studying this disease on a large scale.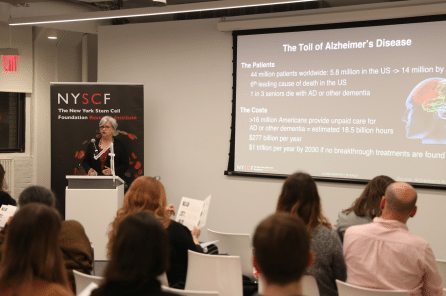 "Every person in this room will likely be impacted by Alzheimer's disease or dementia in one way or another," remarked Ms. Solomon. "This is why Alzheimer's research has always been a priority at NYSCF. We collaborate with over 40 leading institutions to understand the disease, and we have developed unique technologies such as the that allow us to study it in unprecedented detail."
In her presentation, NYSCF Chief Business Officer Dr. Elizabeth Schwarzbach explained that the current system for testing Alzheimer's drugs is failing because it relies on therapies that have only shown success in animal models.
"Alzheimer's was defined over 100 years ago, and in that 100 years, we have not found any therapies that can that slow, stop, or reverse the disease." Dr. Schwarzbach remarked. "We keep putting drugs into clinical trials knowing there is a 99.6% chance they are going to fail. This is because these drugs are developed in mouse models of disease. What brought me to NYSCF was the opportunity to work alongside researchers who are doing drug discovery in human cells."
NYSCF Senior Vice President of Research Dr. Scott Noggle elaborated on NYSCF's unique model of Alzheimer's research, echoing the need to study the disease in human cells and to examine its genetic component.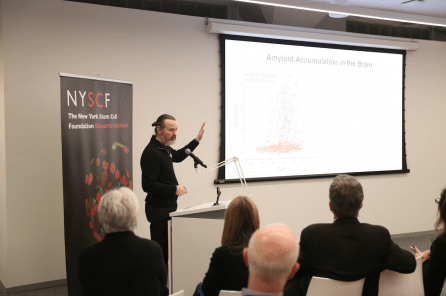 "With stem cells, we can create the actual human cells affected by Alzheimer's and see exactly how they degenerate," Dr. Noggle explained. "Stem cells capture the genetics of the individual from which they are derived, and understanding patient genetics is helping us predict who might get the disease. We can see pathology develop in the dish in days rather than decades, letting us observe how cells from people with early-onset Alzheimer's compare to those from people with the more common forms."
Drs. Noggle and Schwarzbach were then joined by Professor of Alzheimer's Disease Research Dr. Sam Gandy of the Icahn School of Medicine at Mount Sinai and patient advocates Dan Gasby and Alex Lerner for a panel discussion moderated by Ms. Solomon.
Dr. Gandy spoke about how stem cells are helping researchers overcome traditional limitations to Alzheimer's research.
"Our biggest challenge with the disease is that we cannot predict who is going to get it," said Dr. Gandy. "With stem cells, we can, in a sense, rebuild patients' brains in a dish. This gives us access to the structure and function of cells that biopsies cannot provide— allowing us to apply new hypotheses."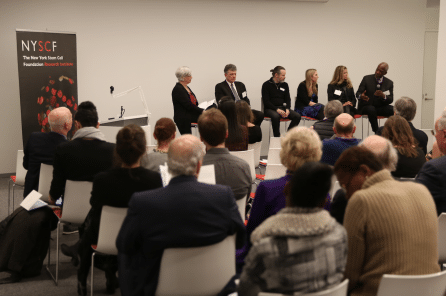 Mr. Gasby and Ms. Lerner have both served as caregivers for loved ones struggling with Alzheimer's and understand the difficulties of this role as well as the need for innovative solutions.
"It is hell without the heat," remarked Mr. Gasby. "It is something you can only truly understand if you have been through it. We need to think out-of-the-box if we want to make progress, and that is why I'm here today."
"Families affected by Alzheimer's often have to give up their work and change their lifestyle," added Ms. Lerner. "We need resources for caregivers such as financial planning to help them prepare for cases in which people fall ill."
After taking audience questions that covered topics such as the impact of environmental factors on the disease and the link between the body's microbiome and the brain, each panelist described why they are hopeful for the future of Alzheimer's treatment, citing advances in research and increased advocacy and awareness.
"What makes me hopeful is in this room," said Mr. Gasby. "I believe in science. I know that 5 or 10 years from now, we are going to be in a much better place. This type of research is the final frontier, so yes, I am hopeful."
Learn more about NYSCF's Alzheimer's research here.