NYSCF Lab Director Presents at Prestigious Japanese Conference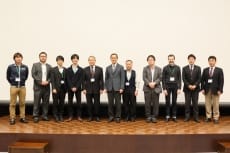 Dr. Scott Noggle, Director of the NYSCF Laboratory and The NYSCF – Charles Evans Senior Research Fellow for Alzheimer's Disease, presented his latest research at the 7th Annual Takeda Science Foundation Symposium on Pharmasciences in Osaka, Japan.
In addition to giving a talk on his latest Alzheimer's research, Dr. Noggle was awarded an "Excellent Poster Award" prize for his excpetional research poster display.
This conference is organized by Nobel Laureate Shinya Yamanaka, who won the Nobel Prize in 2012 for his part in the discovery of induced pluripotent stem (iPS) cells and the ability to reprogram cells into an embryonic-like state.