NYSCF Research Breakthrough Featured in NYTimes Magazine Cover Story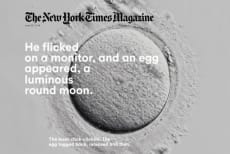 The New York Times Magazine featured NYSCF's cutting-edge research and our efforts to bring to patients our technique of preventing the transmission from mother to child of mitochondrial diseases as a cover story. The technique, pioneered and developed at the NYSCF Research Institute lead by NYSCF scientist Dr. Dieter Egli and his colleagues, involves transferring into a donor egg the nucleus of an egg cell from a woman affected by or with a family history of mitochondrial diseases. This would allow her to have a genetically related child that would be unaffected by this group of diseases. Dr. Egli presented this work to an FDA advisory committee earlier this spring in an important first step toward bringing this technique to patients.
There are currently no cures for this group of devastating diseases. Mitochondrial disorders affect approximately 1 in 10,000 people, while nearly 1 in 200 individuals carry mutant mitochondria. Symptoms, which most often appear in childhood, may include stunted growth, kidney disease, muscle weakness, neurological disorders, loss of vision and hearing, and respiratory problems, among others.
Our experiments have demonstrated the efficacy and safety of this technique, making NYSCF and our clinical collaborators at Columbia University the leading candidate to bring this technique to human clinical trials in the United States.