NYSCF Rings NASDAQ Opening Bell
This morning, NYSCF CEO Susan L. Solomon rang the NASDAQ bell to officially open stock trading for the day.
"I'm incredibly optimistic about the future of medicine because of the advances that ourselves and our colleagues around the globe are making," said Ms. Solomon in her opening remarks. "Our high-risk, high-reward approach has resulted in 18 promising treatments that are in or about to enter clinical trials."
Ms. Solomon was then joined by NYSCF staff, scientists, and board members for the official bell ringing and opening of the markets.
The ceremony, along with a video outlining NYSCF's mission of accelerating treatments and cures for the most devastating diseases of our time, was projected on NASDAQ tower in Times Square, a seven-story screen seen by thousands of New Yorkers each day. Footage of the event was also broadcast on CNBC, Fox, Bloomberg News Network, and Bloomberg TV.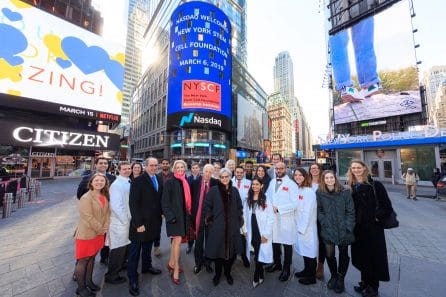 "NYSCF focuses on tipping point stem cell research which is accelerating progress in finding treatments and cures in over 70 disease areas," remarked Brian Joyce, NASDAQ Managing Director of the Market Intelligence Desk. "NASDAQ is proud to recognize them for all the meaningful and impactful work that they do, and it is an honor to have them here today to ring the opening bell."
Watch the full ceremony here
Learn more about the NYSCF Research Institute