NYSCF-Supported ALS Research Headed to Clinical Trials
Press Release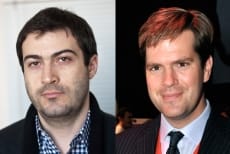 ALS research that NYSCF has supported for 8 years is now progressing to clinical trials for patients with this devastating disease. NYSCF began supporting Dr. Kevin Eggan's laboratory in 2007 when he was unable to obtain funds to make ALS diseased cells in a dish. NYSCF has been supporting his laboratory since then and the continued success of this research has culminated with two related papers that were published today on a potential ALS treatment that will now go to clinical trials.
The two papers, published today in Cell Stem Cell and Cell Reports, outline a discovery in which an epilepsy medicine may be useful in the treatment of ALS or Lou Gehrig's disease. First author on both papers was Evangelos Kiskinis, PhD, a NYSCF – Druckenmiller Fellow alumnus, working in the laboratory of Dr. Eggan at the Harvard Stem Cell Institute.
While a great deal more research needs to be done before determining the drug's sucess, the researchers are currently designing an initial clinical trial to test the safety of the drug in ALS patients with clinicians at Massachusetts General Hospital.
Read the press release on EurekAlert >>
Read more in the Harvard Gazette >>
Read the paper in Cell Reports >>