Public Engagement with Stem Cell Research: NYSCF Shares Lessons Learned From Advocacy
News
Scientific progress is dependent on many factors, and one critical component is public engagement. The public relies on biomedical research to advance solutions for pressing health issues, and research relies on the public to keep practices ethical, participate in studies, and help identify where focus is most needed. It is imperative to keep this relationship as strong and healthy as possible by educating the public about and soliciting feedback on the latest discoveries. 
At last year's meeting of the International Society for Stem Cell Research (ISSCR), NYSCF shared lessons in public engagement learned through decades of advocacy spearheaded by our Founding CEO Susan L. Solomon. A summary of these findings, along with highlights from fellow leaders worldwide, were recently published in Stem Cell Reports.
Embryonic Stem Cell Research: The Early Days
As Susan would always say, NYSCF started from a collective frustration. In the early 2000s, federal funding for creating embryonic stem cells for research was forbidden, even though embryonic stem cell research had widespread public support. 
Susan took on an advocacy role at the New York State level to urge them to provide the funding the federal government wouldn't, leading to the creation of a program to fund scientists in NYS, NYSTEM, in 2007, which is unfortunately being eliminated from the state's budget. Similar state-level funding programs were launched elsewhere, including in California, which hosts the multi-billion dollar California Institute for Regenerative Medicine (CIRM). 
But as we know, state and federal funding can be as volatile as politics, and Susan sought further avenues to keep this burgeoning field moving forward. She founded NYSCF as an independent nonprofit organization and research laboratory driven by private philanthropy, allowing scientists to pursue their work without the worry of whether the government would support it. 
Paving the way for Research Participation: Compensating Egg Cell Donors 
Also at this time, scientists at Harvard pioneered a new methodology, called 'somatic cell nuclear transfer' (or SCNT) to create patient-specific embryonic stem cells – a game changer for disease research. The method required donations of oocytes (egg cells), but in Massachusetts, the law prohibited compensation of time and burden for women who donated their oocytes for research. As a result, of the 168 women who submitted eligibility for the initial Harvard study, 79 met the criteria, but only one entered the study.
As many saw it, this was unfair, and it was impeding progress. At the time, New York State was silent on compensation of time and burden for oocyte donors for research. SCNT research moved from Harvard to NYSCF in 2007, and Susan sought to ensure that the work would no longer be stalled by the government, and furthermore, that donors were compensated for their participation.  
"If you're donating oocytes, there is time and burden," argued Susan. "And in our society, we compensate for time and burden."
Thanks to the efforts of Susan and others, in 2009, the Empire State Stem Cell Board (NYSTEM) voted to allow for compensation of oocyte donors up to $10,000, allowing this research to continue unencumbered. This case illustrated the importance of removing the bottlenecks that discourage public participation in research.
Mitochondrial Replacement Therapy: Forging a Path to the Clinic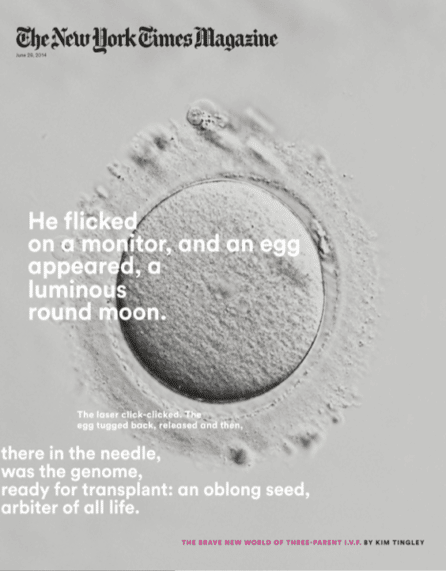 In 2014, scientists including those at the NYSCF Research Institute developed a technique called mitochondrial replacement therapy (MRT), in which mitochondrial DNA (which we inherit from our mothers) that carries disease-causing mutations is replaced with healthy mitochondrial DNA as part of in vitro fertilization. This effectively prevents children from developing mitochondrial disease even if their mothers are carriers.
While there is currently no path to clinical approval in the United States, extensive outreach efforts and public support in the United Kingdom has allowed this therapy to enter the clinic, where it is helping families prevent mitochondrial disease in their children.
Current Public Education & Outreach
Another critical method of fostering public support for science and participation in research is through education and outreach efforts underway at numerous organizations. At NYSCF, we achieve this through the NYSCF Academy for Science and Society that brings science to people of all ages.
To facilitate dialogue between researchers and the public, we host events that bring leading scientists and physicians to our headquarters for presentations and panel discussions on their groundbreaking work. These events are attended by scientists and members of the public – including patients and their families – and guests are invited to ask questions, share ideas, and engage in thoughtful discussions. Check out highlights from recent events here. 
Throughout the year, we also host laboratory tours and career panels for schools and other nonprofit educational programs, often including students from underserved communities. The tours give students a firsthand look at a scientific laboratory and an opportunity to meet the diverse team of NYSCF scientists and to explore the wide variety of career opportunities in this fast-paced field.
Family Stem Cell Day is an annual event that allows students grades K-12 to learn about research, tour NYSCF's labs, and participate in science-themed activities (everything from digitally coloring cell images to making slime). This event provides students with the opportunity to speak one-on-one with researchers and ask questions about stem cells, NYSCF's work, and the life of a scientist.
Our internship program provides approximately 20 high-achieving, diverse students with a paid ten-week summer enrichment internship. This internship gives students a rare glimpse into the fast-paced world of stem cell research, insight into life at an entrepreneurial nonprofit research institute, exposure to career opportunities in science, and connections to valuable professional and peer networks. Many of our interns go on to become successful researchers and advocates for science, often citing the program as a driving force in their passion for the field.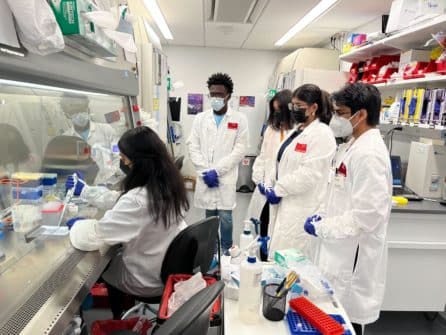 Similarly, our Stem Cell Research Immersive for High School Students (the Immersive) aims to enroll high performing, under-resourced New York City high school students with the goals of providing an experience that inspires students to pursue careers in STEM fields and offers them the necessary resources to give them a head start and a better chance to excel in these fields.
Altogether, we hope these efforts will help foster awareness and engagement in scientific discovery from the public, so that we can all work toward better treatments and cures together.