Unlocking New Brain Disease Treatments with Artificial Intelligence
How can artificial intelligence solve the mysteries of brain diseases?
Read a summary of the discussion here​.
Hear from experts Vikram Khurana, MD, PhD, Leena Panwala, and Daniel Paull, PhD on the amazing opportunities that new technologies hold for treating brain diseases. This discussion will be moderated by NYSCF's Raeka Aiyar, PhD.
What you'll learn:
Why it is so challenging to understand and treat brain diseases
What artificial intelligence (AI) is revealing about brain diseases like Alzheimer's and Parkinson's
How NYSCF's integration of AI and stem cell technology is paving the way for new, effective treatments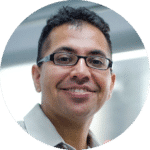 About Dr. Vikram Khurana (Chief of the Division of Movement Disorders, Brigham and Women's Hospital, Harvard Medical School)
Dr. Khurana is a leading physician-researcher in Parkinson's disease and similar neurological diseases like multiple system atrophy

Dr. Khurana's research uses patient stem cells to study alpha-synuclein, a protein in the brain that becomes toxic in Parkinson's patients. He received the NYSCF – Robertson Stem Cell Investigator award to fund this work.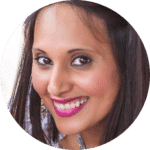 About Leena Panwala (Founder and President, INADcure Foundation)
Ms. Panwala founded the INADcure Foundation after her daughter was diagnosed with the rare disease infantile neuroaxonal dystrophy (INAD), which is often called a 'pediatric form of Parkinson's'

Ms. Panwala and the INADcure Foundation are working with NYSCF scientists to create a bank of INAD patient stem cells and advance novel treatment strategies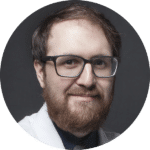 About Dr. Daniel Paull (SVP of Discovery and Platform Development, The NYSCF Research Institute)
Dr. Paull spearheaded the development of the NYSCF Global Stem Cell Array®, our automated system for creating stem cells, and leads a team of >30 scientists and engineers

Dr. Paull is driving NYSCF's applications of artificial intelligence to accelerate disease research and drug discovery
Speaker Bios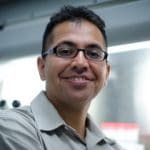 Vikram Khurana, MD, PhD
Chief of the Division of Movement Disorders
Brigham and Women's Hospital and Harvard Medical School
Dr. Khurana is Chief of the Division of Movement Disorders at Brigham and Women's Hospital and Harvard Medical School. He is Principal Faculty at the Harvard Stem Cell Institute, and an Associate Member of the Broad Institute of Harvard and MIT. He is a member of the Board of Directors of the MSA Coalition. His clinical and research interests relate to neurodegenerative disorders focusing on Parkinson's disease (PD) and related dementias, rarer disorders including multiple system atrophy and ataxias. Patients with these disorders are seen by him at Brigham and Women's Hospital in the P+A+MSA clinic.
Dr. Khurana is a medical graduate of the University of Sydney, Australia, and came to Boston as a Fulbright Scholar in 2001, obtaining his Ph.D. in neurobiology from Harvard University in 2006. He completed his neurology residency at Brigham and Women's and Massachusetts General Hospitals, and fellowship in movement disorders and ataxia at Massachusetts General Hospital, where he was on the faculty from 2012 to 2016. Dr. Khurana received postdoctoral training in the laboratories of Drs. Susan Lindquist and Rudolf Jaenisch at the Whitehead Institute for Biomedical Research (MIT), at which time he led some of the first studies to identify and reverse pathologies in human stem cells derived from PD patients.
His current research continues to bring stem-cell technologies toward personalized and precise diagnostics and therapeutics for neurodegenerative disorders. Dr. Khurana's research has been recognized through grants and awards, including federal grants from the NIH and Department of Defense, foundation grants from the American Academy of Neurology, Michael J Fox Foundation, Multiple System Atrophy Coalition, National Ataxia Foundation, Parkinson's Disease Foundation among others. In 2018, he was named a NYSCF – Robertson Investigator, in 2019 a George C. Cotzias Fellow of the American Parkinson's Disease Association and in 2020 an investigator of the Aligning Science Across Parkinson's Initiative.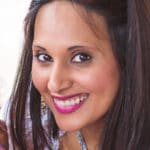 Leena Panwala
Founder and President
INADcure Foundation
Leena Panwala is the Founder and President of the INADcure Foundation, the only nonprofit organization in the United States solely focused on the development of treatments, and one day a cure, for Infantile Neuroaxonal Dystrophy (INAD).
When doctors diagnosed her 2-year-old daughter, Ariya, with INAD in 2016, Leena refused to accept "there's nothing you can do" as an answer. She immediately immersed herself in INAD and the world of rare disease. She spent her days (and nights) trying to understand the pathology of INAD and the current research. It wasn't long after, that she, along with Kristin Phillips and Megan Thomas, also parents of children with INAD, established the INADcure Foundation. Since then, Leena has dedicated herself to its mission – to advance research for INAD in hopes of finding breakthrough treatments that could change the course of this devastating disease.
Leena graduated from Pennsylvania State University with a bachelor's degree in Political Science. She lives with her husband Anil, and their two daughters, Ariya and Alaya, in Fairfield, New Jersey.
Learn more about her journey here.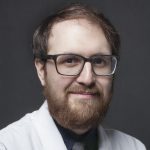 Daniel Paull, PhD
Senior Vice President of Discovery and Platform Development
The NYSCF Research Institute
Dr. Paull oversees the NYSCF Global Stem Cell Array® team and works on a variety of diseases including rare diseases. Dr. Paull received his PhD in Ophthalmology and Cell Biology from University College London, England, and performed his postdoctoral work in the lab of Dr. Dieter Egli at NYSCF. In the latter role, he laid the groundwork for developing the NYSCF automation systems by gaining a firm understanding of how to create stem cells and turn them into the other cell types of the body.
After his postdoctoral work, Dr. Paull served as a Staff Scientist in the automation group at NYSCF. Dr. Paull's work was pivotal in developing the core technology for the NYSCF Global Stem Cell Array®, including automation of the process of converting skin and blood cells to induced pluripotent stem cells (iPSCs). In his current role, Dr. Paull continues to improve and scale up NYSCF's iPSC technology, and to oversee its application to collaborative projects across the research community.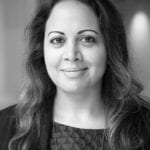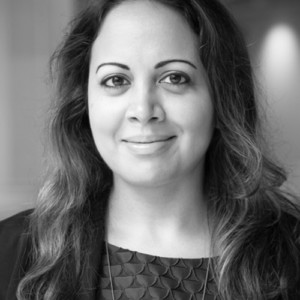 Raeka Aiyar, PhD (Moderator)
Vice President, Scientific Outreach
The NYSCF Research Institute
Dr. Aiyar is an experienced geneticist turned science communicator. Trained in biology and bioinformatics at the University of Waterloo, she received her PhD at the European Molecular Biology Laboratory in Germany, where she used genomics technology to investigate new therapeutic strategies for mitochondrial diseases. Since then, Dr. Aiyar has dedicated her career to science communication, engaging a variety of audiences through writing, training, and outreach. As Director of Communications and Development at the Stanford Genome Technology Center, she led a range of efforts in patient outreach, scientific strategy, and collaboration building. In her current role, she oversees NYSCF's scientific communication initiatives, developing content for diverse audiences through print and digital media as well as event programming.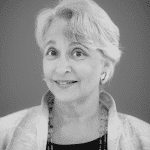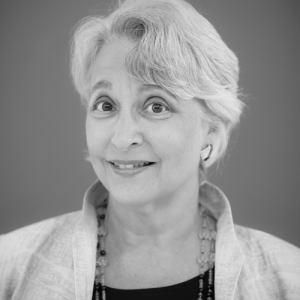 Susan L. Solomon, JD (Host)
CEO & Founder
The NYSCF Research Institute
Susan L. Solomon is Founder and Chief Executive Officer of The New York Stem Cell Foundation Research Institute. A veteran healthcare advocate, Susan has received numerous awards for her work with NYSCF, including the New York State Women of Excellence Award, the Triumph Award from the Brooke Ellison Foundation, and recognition as a Living Landmark from the New York Landmarks Conservancy. Susan has decades of leadership experience in starting and building effective and focused organizations. She started her career as an attorney at Debevoise & Plimpton, then held executive positions at MacAndrews & Forbes and APAX (formerly MMG Patricof and Co.) She was the founder and President of Sony Worldwide Networks, the Chairman and CEO of Lancit Media Productions, and served as the founding CEO of Sothebys.com, prior to starting her own strategic management consulting firm Solomon Partners LLC in 2000.