How Artificial Intelligence Could Revolutionize the Way We Study, Diagnose, and Treat Mental Illnesses
News
Video
It's a difficult time for mental health: the social isolation, fear, and economic fallouts surrounding COVID-19 have ushered in a wave of anxiety, depression, and addiction disorders for many people. How do we ensure mental illnesses are appropriately diagnosed, monitored, and treated when people can't leave their homes as easily and the healthcare system is overloaded with demand? How do we deliver more effective care for everyone, and enhance doctors' abilities to make the best decisions?
Chris Gregg, PhD, has a big plan underway to help solve these problems and build a better system for precision medicine beyond the pandemic. Dr. Gregg, a NYSCF – Robertson Neuroscience Investigator Alumnus and University of Utah Associate Professor of Neurobiology and Human Genetics, has co-developed an artificial intelligence-driven platform called Storyline with leaders in AI and telehealth software. Storyline is based on the transformative idea that patient cognitive, emotional, and behavioral patterns are the most sensitive and predictive measures of health and illness; but until now, we haven't had tools to capture, measure, and utilize them effectively. 
An Unmet Crisis – Mental Health in the Time of COVID-19
In these increasingly trying times, many people are experiencing mental health difficulties, but getting the appropriate care can be an uphill battle.
"One reason people don't seek care for mental health is just the difficulty of access," remarks Dr. Gregg. "You have to find a provider, make an appointment, drive to the appointment, and get that care. Doing this potentially exposes you to COVID-19 or other infectious diseases. If you live really close to a healthcare facility or a therapist, then you're lucky, but for a lot of people it can be challenging to get that kind of care." 
Even for those who are able to see a mental health professional, it can take many sessions to determine the root of a problem. Psychiatric diagnoses are different from other areas of medicine that have objective, data-driven lab tests and scans. This is a barrier to improving our abilities to understand, diagnose, and treat these disorders.
"A psychiatrist or clinical psychologist doesn't just prescribe a drug within five minutes necessarily," says Dr. Gregg. "They'll often have multiple sessions of cognitive behavioral therapy, a lot of continuous management, and experimentation with different drugs and doses. It is not very scalable or precise."
And for those in less populous areas in the midst of a pandemic, time and resources can be limited.
"For example, when you have a massive crisis and a huge wave of individuals that need help, and you're the one psychiatrist managing 20,000 people in a rural area, how do you even start to triage people to figure out who needs you right now and who can wait?" asks Dr. Gregg. "We need better ways of determining severity, managing face-to-face care, and making objective, data-driven decisions."
Artificial Intelligence Can Lead to Powerful Insights
Storyline is a platform technology that uses artificial intelligence to identify health issues through analyses of micro-features of behavioral and emotional characteristics captured through a smartphone app.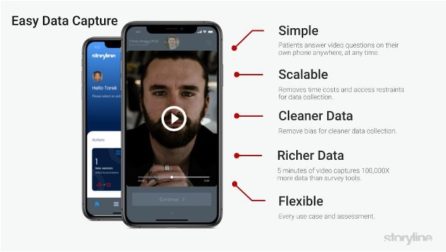 It works like this: participants download the app and use it to answer a series of questions, just like they would in a doctor's office — questions like "What is your biggest concern today?" or "How has your health changed in the past few days?" But instead of answering to a doctor, they answer with a video recording submitted to the platform. Each questionnaire — developed with input from experts in medicine, artificial intelligence, and psychology — only takes about 10 minutes to complete, and users will be prompted three times over a few weeks to respond to key questions.
These recordings are then analyzed using artificial intelligence, in which an algorithm dissects subtle, yet telling characteristics to determine whether someone may need to seek treatment.
"Instead of doing this workflow in a subjective manner where you're talking to someone and they're making their assessment and judgment of your answers, you do this process on your phone and Storyline AI makes an objective, accurate, safe, and data-driven evaluation," notes Dr. Gregg. "We can analyze over 20,000 different features such as blood flow patterns, facial microexpressions, word choice, word structure, language structure, vocal pitch, vocal patterns, or micro-tremors in the voice. These are patterns that humans just aren't able to detect. The hope is that we can use that information to determine how to build the best care pathway for each person, so they have the best outcome."
Mental health issues can also be indicative that something is off in the body, potentially acting as an early sign of illness that Storyline could be trained to detect.
"Brain and behavior analyses are about mental health and much more," says Dr. Gregg. "Depression and anxiety can actually be like a fever, acting as part of a sickness behavioral response to physical problems in the body. This information is diagnostic and important, and Storyline can help make sense of it."
"You also need to find an environment that you're comfortable with [for therapy], and some people don't find it comfortable to share this kind of personal information with someone they don't know that well," continues Dr. Gregg. "An alternative solution to that is to share that information into the ether, so to speak, and have it reduced down to de-identified data. My hope is we can provide people with constant access to care in the future."
A Platform Inspired by Patient Experiences
Storyline was initially developed as a reaction to Dr. Gregg's own experiences as a cancer patient.
"In 2018, I was diagnosed with stage IV cancer. Suddenly I was viewing disease from a patient standpoint as well as from an academic research standpoint. This gave me a deeper understanding of what the challenges are for those on the front lines of medicine and the importance of making fewer mistakes."
Dr. Gregg realized that an AI-driven platform that assessed a wide variety of factors could be an extremely useful tool for reducing decision-making errors, and so Storyline was born.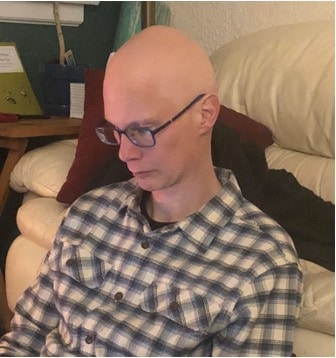 "At the primary care level, physicians are faced with so many different complex decisions. If they don't make the right calls, that can be catastrophic for a patient. AI can help to reduce decision making errors."
As a scientist, Dr. Gregg noticed that massive amounts of knowledge generated from labs worldwide weren't being put to use in the clinic.
"There are millions of academic papers published each year. Clinicians simply cannot read everything relevant to their work," notes Dr. Gregg. "I thought, what if the whole system was integrated so that you do a research study, you learn something, and the data is fed into a model that goes straight out there into the world in a telehealth solution that's operating on the front lines? That could be a game-changer."
Dr. Gregg's battle with cancer has also shaped his perception of what 'precision medicine' means.
"My experience with cancer has been that precision medicine is not just one drug and it's not just one treatment strategy," he says. "Complex diseases have many facets. You need to go through a combination of treatments, and then there's dietary changes and exercise changes and mental health support. All of that has to come together in a personalized program that will ultimately help you get over whatever you're facing. I hope Storyline will help integrate these different aspects to help patients heal in the way that is best for them."
The Next Steps for Storyline
The first step for unlocking Storyline's full potential is data collection. The more data the platform has, the better it will be able to train its algorithm to know which characteristics are indicative of disease and which questions should be asked to which patients at which times. 
Importantly, the data collected through Storyline is protected and de-identified and cannot be traced back to specific participants.
"The system is military-grade — it's extremely secure. It keeps medical information separate from personal information, and participants are given complete control of their data. So, if you decide you want to delete your data, you can remove it from the system. This is especially important since we are asking people to share not just their medical information, but their emotional state, concerns, and worries."
Dr. Gregg hopes that Storyline triggers a revolution in how research and healthcare is done and delivers big improvements for patients. However, he thinks it is just the beginning of creating a better system for global health and he wants to connect with leading problem solvers everywhere.
"If you want to make a difference, this is a great way to do so. My mission is to help the geniuses of the world solve impossible problems. NYSCF supports many of the world's best minds and I am excited about what we will achieve together."
Storyline is seeking to help innovators, scientists, and community leaders that have a big idea that could benefit from the world's most powerful AI platform for analyzing behavioral health and disease remotely and at massive scale.
To learn more, get involved, and make a breakthrough, contact Christopher Gregg at Storyline Health (chris@storylinehealth.com) or partnering@nyscf.org