NYSCF-Supported ALS Research Identifies Promising New Biological Pathway
News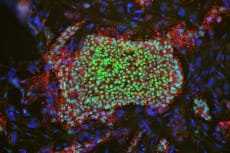 Researchers at the Harvard Stem Cell Institute, led by NYSCF Chief Scientific Officer Dr. Kevin Eggan, discovered a new, promising treatment for ALS, or Lou Gehrig's disease. The research leading to this discovery began eight years ago and was initially and continuously supported by NYSCF.
Published in Science Translational Medicine, the scientists showed that genetically intervening in a biological pathway associated with ALS resulted in an increased survival rate of 5-10% in an animal model.
Critically, the scientists confirmed that this biological pathway is identical in animal models and in the human disease cells in a dish, forwshadowing the potential future elimination of animal model testing for ALS and other diseases.
Read more in the Harvard Gazette >>
Read more from the Harvard Stem Cell Institute >>