Stem Cells: The Future of Medicine
What makes stem cells so uniquely powerful? 
Read a summary of the discussion here.
NYSCF's Senior Vice President of Research Scott Noggle, PhD explains the basics of stem cells and why they are a breakthrough tool for medical research.
During this webinar you will learn:
What stem cells can do that other cells cannot

How stem cells can be used to teach us about human diseases

How stem cells are paving the way for effective treatments and cures 

How NYSCF is best equipped to bring the full potential of stem cells to patients
About Dr. Scott Noggle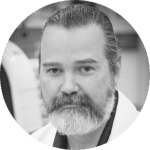 Dr. Noggle is SVP of Research at the NYSCF Research Institute where he helps oversee various stem cell research programs
Dr. Noggle is an expert in neurodegenerative diseases, leading a team on Alzheimer's disease research at NYSCF
Dr. Noggle became NYSCF's first full time researcher in 2008
Click here to learn more about Dr. Noggle
Scott Noggle, PhD
Senior Vice President of Research, The NYSCF Research Institute
Dr. Noggle is an experienced stem cell biologist who has spearheaded critical technologies to advance the field. He was a primary developer of The NYSCF Global Stem Cell Array®, the only fully automated robotic system of its kind for the accurate and reproducible generation of stem cell lines. His current work focuses on using stem cells to better understand and treat neurodegenerative diseases, primarily Alzheimer's disease. Dr. Noggle received his PhD from the Medical College of Georgia and completed his postdoctoral research at The Rockefeller University, where he studied stem cells and neurology. With his team at the NYSCF Research Institute, Dr. Noggle is using stem cells to create the cells affected by Alzheimer's disease and identify targets for new treatments.
We are grateful to the Stavros Niarchos Foundation for their support of our education and outreach programs.