At NYSCF, we partner with a broad range of institutions, forward-thinking foundations, groundbreaking research centers, and innovative companies across the globe. Our partnerships take various forms, combining the interests of our collaborators with those of NYSCF to accelerate the path to successful future medicines. These partnerships can encompass everything from the genesis of vital research resources, such as large-scale iPSC cohorts for specific disease areas, to the development of human disease models in vitro to conducting large-scale target discovery and toxicity testing on our proprietary discovery platform. Below are a number of our existing areas of collaborations, and we welcome your inquiries about other partnering opportunities:
High-throughput automated generation of iPSC lines and derived cell types
NYSCF is a preferred partner for gold-standard, automated generation of iPSC lines and derived cell types, in academic, non-profit, government and industry collaborations. Partnering examples include: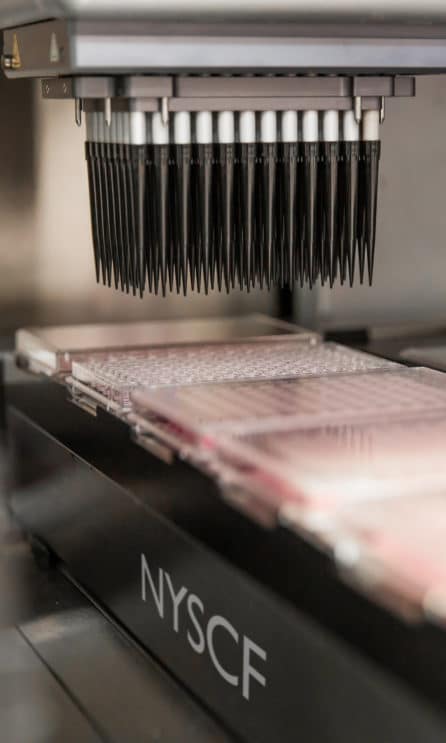 Disease Modeling 
NYSCF is home to a number of  expert scientific, technical, and clinical teams to develop population-scale, iPSC models of disease  to capture heterogeneity in innovative, and feasible, ways that hold the promise to  transform traditional approaches to discovery and drug development by revealing pathogenic pathways in a dish. . Partnering examples include: 
Transformative projects with top collaborators
First iPSC model of PTSD reveals hypersensitivity of neurons to stress (

link to paper

)

Alzheimer's hallmarks recapitulated in iPSC-neurons (

link to paper

)

Unveiling drivers of genetic and idiopathic Parkinson's Disease (

read more

)

Understanding genotype-phenotype relationships in type 2 diabetes, in collaboration with Dr. Francis Collins at NHGRI

Increasing industry collaborations in iPSC-powered drug development for retinal, cardiac, neural, and rare diseases
Pioneering creation of disease-relevant iPSC-derived cell types
Optimized and automated protocols for differentiating a variety of 2D and 3D cultures
AI-based high-throughput screening of various therapeutic modalities 
We combine high-throughput screening, AI and multi-parametric readouts to discover novel disease phenotypes and druggable targets, and are amenable to testing large libraries of compounds, nucleotide based therapeutics, etc. Partnering example: 
Identifying novel cellular phenotypes of complex diseases, demonstrated in Parkinson's patient fibroblasts, to enable target-agnostic drug screens (

link to paper

)
---
If you are interested in collaborative opportunities with NYSCF, please contact partnering@nyscf.org.