NYSCF partners with a broad range of institutions, foundations, centers and companies in a variety of ways ranging from the creation of fundamental research resources such as iPSC lines for a disease area to developing human disease models in vitro to enable drug discovery and toxicity testing.
Key partnerships include:
Disease Foundations
Research Institutes/Initiatives
Academic Medical Centers
Pharma/biotech companies
NYSCF Global Stem Cell Array®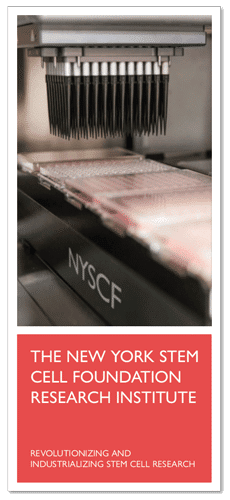 Developed by NYSCF scientists and engineers, the NYSCF Global Stem Cell Array® enables research to functionalize human genetics, merging patient genomics data with cellular phenotyping. Read more about the technology. If you are interested in collaborative opportunities using the NYSCF Global Stem Cell Array®, please contact partnering@nyscf.org.
Example Project 1
Production of iPS cell lines from multiple patients, a partnership between a Disease Foundation and NYSCF
NYSCF actively partners with a Disease Foundation, which identifies an appropriate patient cohort from which NYSCF can collect skin biopsies or blood samples for iPSC generation. NYSCF internal team of experienced scientists reprograms the samples, conducts extensive quality control to insure sterility, sample identity and pluripotency. and then scales up and banks the final iPSC cell lines for distribution to the Disease Foundation and other scientists as desired. Additionally, NYSCF scientists work with the Disease Foundation to establish in vitro cellular disease models for further investigation or screening.
Example Project 2
Research collaboration to create a scalable, reproducible protocol for the creation of specific neuronal cell types.
A pharmaceutical company partners with NYSCF to optimize an existing differentiation protocol aimed at generating a specific cell type in a reproducible, cost effective, and scalable manner. At the same time, protocol modifications are developed to generate a second cell type not previously accomplished. NYSCF scientists conduct differentiation and analysis of the neuronal cell types produced, and additionally provide differentiated cells to the partner for further analysis. During regularly scheduled meetings with the partner, NYSCF provides status reports, and project scientists discuss next steps towards completing project milestones. Finally, NYSCF provides the partner with a detailed report containing all results, detailed differentiation protocols and can produce and bank differentiated cells as desired.
---
Please contact us for more information