Your Aging Brain: The Spectrum From Healthy to Alzheimer's Disease
​​
Nearly 1 in 3 seniors die with Alzheimer's or a related dementia, yet very few treatments or preventive options are available. Understanding how exactly cells in patient brains deteriorate as they age – and how this process differs across patients – has been a major challenge. A new study by NYSCF scientists and collaborators reveals the power of stem cell models for capturing features of aging brains in a continuum from healthy to severe Alzheimer's disease. Experts David A. Bennett, MD (Rush Medical College, Rush Alzheimer's Disease Center), Tracy Young-Pearse, PhD (Harvard Medical School, Brigham and Women's Hospital) and Scott Noggle, PhD (The NYSCF Research Institute) discuss what their latest findings tell us about the cells in our aging brains, the genetic factors that may be driving cognitive decline, and the road toward effective treatments. The discussion was moderated by NYSCF's Raeka Aiyar, PhD.
Speaker Bios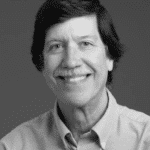 David A. Bennett, MD
Robert C. Borwell Professor of Neurological Sciences
Department of Neurological Sciences, Rush Medical College
Director, Rush Alzheimer's Disease Center
Dr. Bennett is internationally known for his research in Alzheimer's disease and is principal investigator of several studies funded by the National Institute on Aging, including the Rush Alzheimer's Disease Research Center, the Religious Orders Study, the Rush Memory and Aging Project, and the pathology, Alzheimer's and related dementias study in Sao Paulo, Brazil.

Dr. Bennett leads the Rush Alzheimer's Disease Center: a large, free-standing multidisciplinary research and clinical center that studies a wide range of common chronic conditions of aging, including Alzheimer's disease, stroke, Parkinson's disease, other neurodegenerative diseases, sleep, neuro- and behavior economics, decision making and well-being. Studies range from community-based epidemiologic studies that incorporate genomics, imaging and biomedical devices, to phase I to phase IV clinical trials.

Dr. Bennett's research aims to identify novel therapeutics for common neurologic diseases. He also directs the Regional Alzheimer's Disease Assistance Center for Northern Illinois. He serves on numerous national and international advisory and editorial boards. He is currently on a member of the National Advisory Council on Aging for the National Institutes of Health. Dr. Bennett was the winner of the 2018 Potampkin Prize for research on dementia. He has more than 950 peer-reviewed manuscript publications, with more than 135,000 citations and an h index = 175.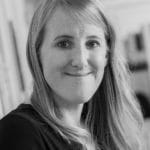 Tracy Young-Pearse, PhD
Associate Professor of Neurology, Harvard Medical School
Associate Chair of Neuroscience Research, Brigham and Women's Hospital, Neurology
Co-Director Human Nervous System Diseases Program, Harvard Stem Cell Institute (HSCI)
Dr. Young-Pearse is an Associate Professor in the Ann Romney Center for Neurologic Diseases at Brigham and Women's Hospital (BWH) and Harvard Medical School in the Department of Neurology. 
Dr. Young-Pearse received her Ph.D. in Genetics in the Biomedical and Biological Sciences (BBS) program at Harvard Medical Schoolin the lab of Connie Cepko, followed by a postdoctoral fellowship under the mentorship of Dennis Selkoe. 
The Young-Pearse lab aims to understand the functions of certain genes identified in neurodegenerative and developmental disorders of the human brain such as Alzheimer's disease, schizophrenia, and autism. They use a variety of molecular and biochemical techniques in conjunction with modeling in rodents and induced pluripotent stem cells (iPSCs) to understand the normal and pathological functions of genes involved in these disorders, so as to better understand both the fundamental causes of these devastating diseases and the normal development and functioning of the brain.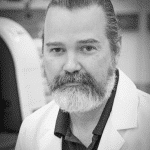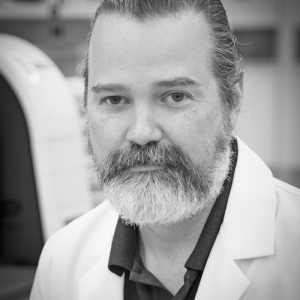 Scott Noggle, PhD
Senior Vice President of Research, The NYSCF Research Institute
Dr. Noggle is an experienced stem cell biologist who has spearheaded critical technologies to advance the field. He was a primary developer of The NYSCF Global Stem Cell Array®, the only fully automated robotic system of its kind for the accurate and reproducible generation of stem cell lines. His current work focuses on using stem cells to better understand and treat neurodegenerative diseases, primarily Alzheimer's disease. Dr. Noggle received his PhD from the Medical College of Georgia and completed his postdoctoral research at The Rockefeller University, where he studied stem cells and neurology. With his team at the NYSCF Research Institute, Dr. Noggle is using stem cells to create the cells affected by Alzheimer's disease and identify targets for new treatments.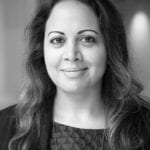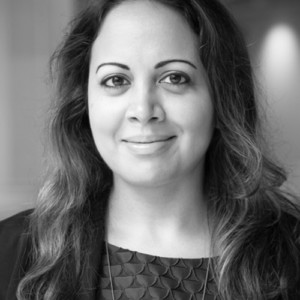 Raeka Aiyar, PhD (Moderator)
Vice President, Scientific Outreach
The NYSCF Research Institute
Dr. Aiyar is an experienced geneticist turned science communicator. Trained in biology and bioinformatics at the University of Waterloo, she received her PhD at the European Molecular Biology Laboratory in Germany, where she used genomics technology to investigate new therapeutic strategies for mitochondrial diseases. Since then, Dr. Aiyar has dedicated her career to science communication, engaging a variety of audiences through writing, training, and outreach. As Director of Communications and Development at the Stanford Genome Technology Center, she led a range of efforts in patient outreach, scientific strategy, and collaboration building. In her current role, she oversees NYSCF's scientific communication initiatives, developing content for diverse audiences through print and digital media as well as event programming.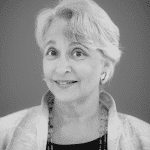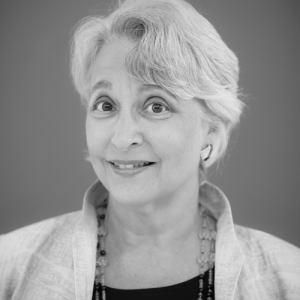 Susan L. Solomon, JD (Host)
CEO & Founder
The NYSCF Research Institute
Susan L. Solomon is Founder and Chief Executive Officer of The New York Stem Cell Foundation Research Institute. A veteran healthcare advocate, Susan has received numerous awards for her work with NYSCF, including the New York State Women of Excellence Award, the Triumph Award from the Brooke Ellison Foundation, and recognition as a Living Landmark from the New York Landmarks Conservancy. Susan has decades of leadership experience in starting and building effective and focused organizations. She started her career as an attorney at Debevoise & Plimpton, then held executive positions at MacAndrews & Forbes and APAX (formerly MMG Patricof and Co.) She was the founder and President of Sony Worldwide Networks, the Chairman and CEO of Lancit Media Productions, and served as the founding CEO of Sothebys.com, prior to starting her own strategic management consulting firm Solomon Partners LLC in 2000.
---
We are grateful to the Stavros Niarchos Foundation for their support of our education and outreach programs.