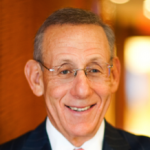 Stephen M. Ross
Chairman and Founder at Related Companies
Bio
Stephen M. Ross is the Chairman and Founder of Related Companies. Mr. Ross formed Related in 1972 and today the company includes over 2,500 professionals. Related is one of the largest owners of affordable housing, has developed over $22 billion in real estate, and owns real estate assets valued at over $20 billion made up of best-in-class mixed-use, residential, retail and office properties in premier high-barrier-to-entry markets. Mr. Ross is also the owner of the Miami Dolphins.
Mr. Ross is Chairman of the Board of Directors of Equinox Holdings, Inc., serves on the Executive Committee and is a trustee of Lincoln Center, and is a trustee of NewYork-Presbyterian Hospital and the Guggenheim Foundation. He is a director on the board of the Culture Shed and the Jackie Robinson Foundation and is chairperson emeritus of the Real Estate Board of New York (REBNY), the city's leading real estate trade association. Mr. Ross is also a director on the board of the World Resources Institute (WRI) and recently established the WRI Ross Center for Sustainable Cities, an innovative new initiative to integrate urban planning, sustainable transport, energy and climate change, water resources, and governance.
Over the years, Mr. Ross has received numerous honors for his business, civic, and philanthropic activities. Most recently, he was a New York Power Player by the New York Times, the Most Powerful Person in New York Real Estate by the New York Observer, Multi-Family Property Executive of the Year by Commercial Property News, and Housing Person of the Year by the National Housing Conference. He also received The National Building Museum Honor Award, REBNY's Harry B. Helmsley Distinguished New Yorker Award and the Jack D. Weiler Award from UJA. Crain's New York named Mr. Ross one of the 100 Most Influential Leaders in Business and he was recognized by NYC & Company with their Leadership in Tourism Award. In 2013, Mr. Ross pledged to give more than half of his estate to philanthropic causes and charitable organizations through the Giving Pledge, a long-term global initiative created by Warren Buffett and Bill and Melinda Gates that aims to inspire deeper engagement in philanthropy and increase charitable giving globally.
Mr. Ross graduated from the University of Michigan with a Bachelor of Business Administration degree, from Wayne State University Law School with a Juris Doctor degree and from New York University School of Law with a Master of Laws in Taxation. In 2004, the University of Michigan renamed its business school the Stephen M. Ross School of Business at the University of Michigan and in 2011 the University of Michigan awarded Mr. Ross an honorary degree, Doctor of Laws.