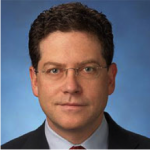 Stephen M. Scherr
Chair and Chief Executive Officer of Hertz
Bio
Stephen Scherr is Chair and Chief Executive Officer of Hertz. He is focused on transforming the iconic American company into a global leader in shared mobility, electrification, and digital-first customer experience. Prior to joining Hertz in February 2022, Scherr spent nearly three decades at Goldman Sachs. He served as Chief Financial Officer from 2018 through 2021, a period during which the firm undertook considerable growth across its new and existing businesses. During his time at Goldman Sachs, Scherr led a number of the firm's most important businesses, including as Chief Operating Officer of the Investment Banking Division, Global Head of the Financing Group and leader of the firm's consumer business.
Scherr serves on the boards of the Jewish Museum and the New York Stem Cell Foundation. He is also a member of Business Roundtable, the Council on Foreign Relations and the United States Travel and Tourism Advisory Board.
He holds a J.D. from Harvard Law School and an A.B. from the Woodrow Wilson School of Public and International Affairs at Princeton University.