For Fostering Gender Equity in Medicine, The Time is Now
News
"We just have to keep at it [with gender inequity in science and medicine]," remarked NYSCF CEO Susan L. Solomon. "We have to keep trying to do better. There have been groups working on this since the sixties, but unfortunately there's still a long way to go."
Ms. Solomon was speaking with fellow leaders of academic institutions about one of medical science's most pressing issues: gender equity. The meeting, co-hosted by NYSCF, the Center for Women in Academic Medicine and Science, and AAAS SEA Change, aimed to highlight the importance of metrics-driven gender equity initiatives for building more diverse and supportive cultures in the medical field.
Promoting gender equity has long been one of our goals. We launched our Initiative on Women in Science and Engineering to shine a light on the problem and propose actionable strategies to combat it. These strategies, everything from developing implicit bias statements to allowing for flexible family care spending in grant awards, were outlined in a 2015 Cell Stem Cell paper.
"We came up with strategies that were designed both to be easily implementable and low cost because we didn't want people to say, 'Oh, well, that's really terrific, but we can't afford it,'" explained Ms. Solomon.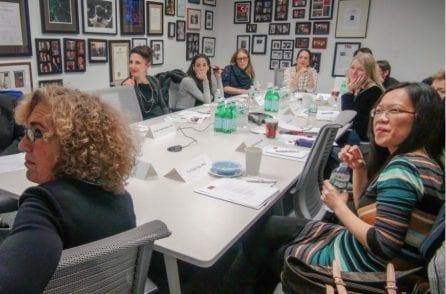 In addition to the actionable strategies, the IWISE group members thought it was important to collect data on the current landscape of gender equality across institutions. The NYSCF Institutional Report Card for Gender Equality does just this, and all applicants for NYSCF's extramural grants are required to complete it. 
A recent analysis of Report Card submissions over a four-year period, published in Cell Stem Cell last October, leaves a lot to be desired. Specifically, as seniority increased, representation decreased, and women were underrepresented as external seminar program speakers and in committees for faculty promotions, institutional strategy, and graduate student appointment/recruitment. Most institutions did not have policies that promote gender diversity on committees or to encourage women-friendly workplaces.
"We need to know how we're doing in order to do better, and we need to have it pointed out on a regular basis," said Ms. Solomon. "This study shows us exactly where we need to do better."
Leaders of other medical institutions shared similar concerns about representation and shared measures they have taken to increase gender equity.
"We told our department Chairs to look at every single person's salary and compare it to a peer that does the same exact work, just to make sure that there's gender equity in the base compensation. And at the end of the year, they then have to write me a letter about what they did and what they found," remarked Paul B. Rothman, MD, Dean of the Medical Faculty and CEO of Johns Hopkins Medicine. "This helped hold people accountable and decrease gender disparity.
Amy S. Gottlieb, MD, FACP, Associate Dean for Faculty Affairs and Chief Faculty Development Officer at the University of Massachusetts Medical School-Baystate and Baystate Health, agreed that the pay gap is still a major issue, and actions such as the ones outlined by NYSCF could help foster inclusive cultures.
"These inequities begin right out of training. In fact, physicians experience one of the largest gender pay gaps in the country," she added. "And as we look at the issue of women moving into leadership positions, we need to determine how to change the organizational culture instead of trying to change women to fit into the culture as it exists."
Karen H. Antman, MD, Dean of Boston University's School of Medicine, expressed the importance of choosing diverse leaders.
"I think the most important thing that we have done at Boston Medical Center is pick diverse Chairs," she explained. "And as part of their annual review, they have to show that the proportion of women and minorities is more than the national average. Especially since the patient population we serve is very diverse." 
John J. Reilly, Jr., MD, Dean of the University of Colorado School of Medicine and Vice Chancellor for Health Affairs for the University of Colorado Anschutz Medical Campus, echoed this sentiment.
"We are one of the few professions left in an increasingly fragmented society who sees people from all backgrounds and walks of life as we treat patients. It's important that those different walks of life are represented in the people providing the care."
The group also discussed how the pandemic has exacerbated gender inequities and what can be done to provide support for women in these challenging times.
"We allow more flexible hours and are thinking of doing things like setting up parents with resources such as Zoom tutoring for children so that they can remain engaged and watched after while faculty attend meetings," said Dr. Rothman.
Altogether, the group is optimistic that a brighter future is on the horizon.
"I believe that most people genuinely want to do better, and I hope we do," remarked Ms. Solomon. "My granddaughter is 14 years old and is interested in medicine, and I hope should she enter the field, she'll find an improved environment."