Fostering STEM Education Through A Lifetime: From Student to Scientist
News
Science affects everyone, and has never been more important. To enable meaningful progress, we need to support and inspire people of all ages to engage with science, whether as a student, a researcher, or a member of the public. Through the NYSCF Academy for Science and Society, we do just that – offering opportunities to get students interested in STEM, providing interns with hands-on lab experience, presenting junior scientists with resources to succeed (including strategies in diversity, equity, inclusion, and belonging), and building a bridge between researchers and the public.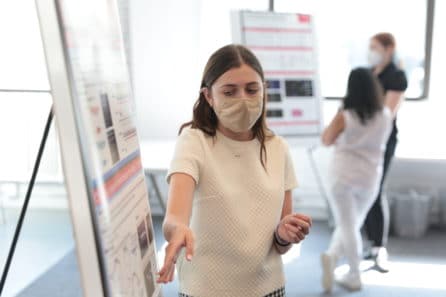 "The Academy is a central pillar of what we do at NYSCF because science education is crucial for reaching better treatments and cures," noted Richard Ha, Director of External Programs. "We need to engage all communities with science and inspire young generations to pursue STEM to build a better future."
Join us for a journey through the stages of one person's life to see how a few of NYSCF's programs can make a difference that impacts all of us.
An Introduction to the Wondrous World of STEM
Imagine you are in elementary school. You're a little sponge who is learning about what fascinates you and setting the foundation for your future. What might it take to pique your interest in science? If books and classes aren't enough to do it – maybe it's the chance to see it up close yourself.
At our annual Family Stem Cell Day, students in grades as early as kindergarten learn about research, tour NYSCF's labs, and participate in science-themed activities (everything from digitally coloring cell images to making slime). The day provides students and families in the local community the opportunity to speak one-on-one with researchers and ask questions about stem cells, NYSCF's work, and what it's like to be a scientist. 
"When I grow up, I'm gonna dress like this every day," remarked one future scientist who attended 2019 Family Stem Cell Day, confidently donning a lab coat and goggles.
"Events like this are a great way to get kids interested in science," said one parent. "Sometimes when you're reading what's in a book, it's hard to see how it will be applicable or benefit society, so I think today has really helped perpetuate [my kids'] interest in the field." 
Venturing Beyond the High School Classroom
It's several years later, and you're in high school. You've got an interest in science, but you're having trouble envisioning what the day-to-day of a researcher is like. You want a deeper dive beyond what you saw at Family Stem Cell Day when you were younger.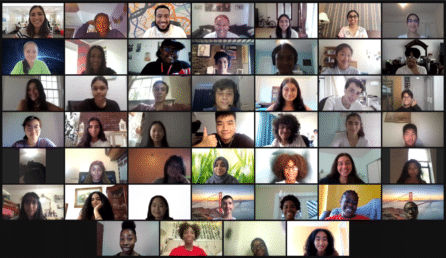 For high school students, we offer a Summer Immersive Program that enrolls high performing, under-resourced New York City students with the goals of providing an experience that inspires students to pursue careers in STEM fields and offers them the necessary resources to give them a head start and a better chance to excel in these fields. NYSCF Research Institute scientists, engineers, and programs staff members also provide students with a glimpse into a "day in the life" of their job and conduct mock interviews for an internship in their departments.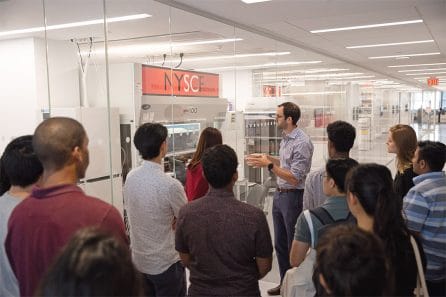 "Knowing that there are organizations like NYSCF that want us to do well and succeed is so heartening," said one student. "It gives me a lot of hope."
We also offer student-focused career panels and lab tours throughout the year to give a window into hot topics in STEM and a close look at how a laboratory operates.
Check out highlights from a recent student panel on gene editing.
A Summer of Hands-On Science
High school is over, and now it's time for college. You've decided to study STEM, but the majority of your time is still spent in the classroom. You're looking to get real, hands-on experience in the lab for an extended period of time to explore your options and further inform your career trajectory.
Enter: NYSCF's ten-week summer internship program. This program provides students a glimpse into the fast-paced world of stem cell research, insight into life at an entrepreneurial nonprofit research institute, exposure to career opportunities in science, and connections to valuable professional and peer networks. It offers tracks in laboratory research, automation and software engineering, data science and bioinformatics, and programs administration.
Our interns take on meaningful projects and are provided with career mentorship and support, helping them set the stage for the next steps in their professional journeys.
"I really felt like I was able to contribute as an intern and make a real impact by building a completely new tool for NYSCF's software system," said Neil Kennedy, a student at Columbia University who interned on NYSCF's software development team. "I loved that they trusted me to do this, and I learned a lot along the way."
"I feel more prepared to enter the workforce because with this program, I've been able to use a real world data set in the biomedical field," added Andrea Ceres, a student at CUNY who interned on the data science team. "What I've experienced at NYSCF is thoughtful attention to my career: things like resume reviews and presentation workshops. It's been really good to work on these important soft skills."
Supporting the Scientific Community
Congratulations, your dream has come true – you've graduated, perhaps gone to graduate school, and you are finally a bone fide scientist! It's no secret that navigating your new life as an early-career researcher can be challenging, but don't worry, we've still got you covered.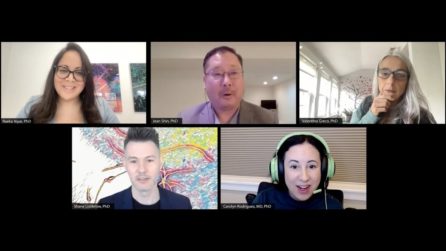 We host career development workshops in publishing, grant writing, communications, and more, as well as seminars and virtual journal clubs that give scientists a chance to learn valuable skills, connect, and spark new ideas. Check out a recent webinar on publishing and scientific writing here. 
We also understand how critical it is to foster diversity, equity, inclusion, and belonging (DEIB) in the STEM community. We offer resources and expert panel discussions on DEIB to promote conversation, raise awareness, and define actions that each of us can take. Read highlights from one such discussion here.
Building a Bridge Between Researchers and the Public
Let's imagine a different journey for you for a second. Maybe you never had access to much scientific education to begin with. Maybe your life took a turn or you found a different passion, and you didn't become a scientist, but as a member of the public, you're still interested in learning about what's happening in biomedical research. Maybe yourself or someone you love is affected by a disease, and you want to know about the latest in treatment development.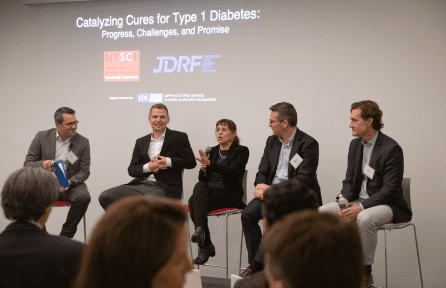 To bring groundbreaking updates to people everywhere, we host lay-friendly panels featuring expert researchers, physicians, and patient advocates where guests are invited to ask questions, share ideas, and engage in thoughtful discussions on science. These events address a variety of topics including COVID-19, Alzheimer's, uniting patients and scientists, and much more.
Check out our top five panels from 2021, and visit our events page for announcements on upcoming webinars.
Interested in Supporting our Efforts to Strengthen STEM Education for Everyone?
To continue the Academy's transformational impact, we need your help. We are nearing the completion of a 1:1 matching grant from the Stavros Niarchos Foundation in support of these essential initiatives. We hope you'll join us by supporting our efforts to nurture the next generation of pioneering researchers, who will carry on our work of transforming human health for generations to come.