New York Stem Cell Foundation Research Institute and Tufts University to Collaborate on Neurodegeneration
News
Press Release
Scientific teams will develop advanced stem cell models to improve understanding and treatment of Parkinson's, Alzheimer's, and similar diseases
New York, NY (September 12, 2018) – The New York Stem Cell Foundation (NYSCF) Research Institute and the Tufts University Initiative for Neural Science, Disease & Engineering (INSciDE) today announced a collaborative initiative focused on deciphering the mechanisms of neurodegenerative diseases by employing a new generation of human stem-cell-based experimental technologies. Using patient-derived samples, the research team will engineer 3D models of the tissues adversely affected in neurodegenerative disease, including the brain, peripheral nervous system, immune system, and intestine. The goal of the initiative is to elucidate the molecular pathways and cellular and neural circuit defects that cause neurodegenerative and psychiatric disorders.
"Neurodegenerative diseases impact the lives of millions worldwide, and NYSCF is committed to improving the way these debilitating disorders are understood, diagnosed, and treated," says Susan L. Solomon, NYSCF CEO. "We are very pleased to be collaborating with this world-class bioengineering team at Tufts to create an unprecedented model system for disease research and drug discovery."
NYSCF is a leader in stem cell research dedicated to understanding the mechanisms behind neurological disorders and bringing effective treatments to patients. INSciDE at Tufts is a new interdisciplinary center with a multi-scale focus on brain and peripheral nervous system structure, function, and disease. Combining NYSCF's extensive track record in induced pluripotent stem cell (iPSC) technology and organoid generation with Tufts' world-renowned capabilities in 3D tissue engineering, fundamental disease research, functional genomics, and systems biology, this collaboration is well positioned to tackle the diseases of the brain.
"We are excited to join with the NYSCF Research Institute to combine our efforts in the elucidation of mechanisms underlying neurological disorders," said David Kaplan, Ph.D., the Stern Family Professor of Engineering, Chair of the Department of Biomedical Engineering, and Director of INSciDE at Tufts University. Kaplan is also a member of the Cell, Molecular & Developmental Biology program faculty at the Sackler School of Graduate Biomedical Sciences at Tufts. "NYSCF's world-leading expertise in iPSC biology, such as the differentiation and characterization of the key cell types that make up the brain, is pivotal to our mission to find cures for these devastating diseases."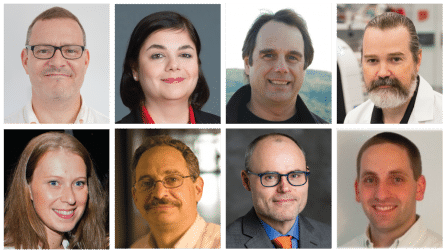 The team will initially focus on engineering 3D tissue laboratory models recapitulating key aspects of Alzheimer's and Parkinson's disease. First, the researchers will integrate the different cell types affected in each disease into advanced biocompatible scaffolds developed by the INSciDE team to mimic biological tissues. These technologies will then enable researchers to reconstruct the architecture, function, and diverse composition of diseased neural circuits, providing a glimpse into what factors may cause the circuits to malfunction.
"By integrating our teams' respective bioengineering and stem cell expertise, we will be able to reconstruct, for instance, the heterogeneous cellular architecture and functionality of the diseased brain from the induced pluripotent stem cells of patients with specific mutations," explains Thomas Nieland, Ph.D., Research Associate Professor of Biomedical Engineering and INSciDE at Tufts. "This approach will lead to a greater understanding of disease pathology and to development of better therapeutic options for patients."
In addition to studying the interactions and behavior of cells within neural circuits, the researchers will also examine influential factors outside the brain. For example, the brain-intestine-immune axis has recently emerged as a major player in neurodegenerative diseases, with evidence of inflammation and disruptions in the gut microbiome adding to the well-established cognitive and neurological symptoms. Yet the complex interactions between these different systems have been very challenging for researchers to study experimentally, leaving open questions about cause vs. effect and how to treat the defects that arise. The model designed by this research team will allow scientists to ask questions about how human cells in the brain-intestine-immune axis develop, interact, and malfunction to influence neurodegenerative disease. A better understanding of the relationship between these systems will then allow researchers to develop targeted therapies.
Generating models using human cells will also provide a more accurate representation of disease pathology. Researchers have struggled to study neurodegenerative disorders in animal models such as mice in which these disorders are not native, and because of key differences in the brain and immune system between mice and humans, many drugs discovered in these models fail in human clinical trials. Because this new model system will be derived from patient stem cells, the team anticipates it will more effectively recapitulate these diseases, enabling the discovery of genetic factors and disease mechanisms connecting these diverse systems, molecular biomarkers that can be used in diagnosis, and the sorely needed disease-modifying therapies.
"After almost 20 years of patient care, I recognize the challenges faced by people with Parkinson's disease and related disorders. I share the frustration of my patients and their loved ones that we are only able to treat the symptoms, but unable to change the course of the disease," says Melissa Nirenberg, MD, PhD, NYSCF Chief Medical Officer. "This project will help us better understand the cellular basis of neurodegenerative diseases like Parkinson's and develop treatments that target the causes rather than just the symptoms."
NYSCF has recently acquired samples from a cohort of nearly 200 Parkinson's patients, from which they are generating iPSCs and brain cells such as the dopaminergic neurons that are lost in the disease. The Tufts researchers are now engineering gut-brain bioreactors and will soon begin creating models of the human intestine. The teams are eager to begin integrating these systems into technology that will enable a new level of understanding of neurodegeneration and fuel the next generation of therapeutic development.
###
About The New York Stem Cell Foundation Research Institute
The New York Stem Cell Foundation (NYSCF) Research Institute is an independent organization accelerating cures and better treatments for patients through stem cell research. The NYSCF global community includes over 150 researchers at leading institutions worldwide, including the NYSCF – Druckenmiller Fellows, the NYSCF – Robertson Investigators, the NYSCF – Robertson Stem Cell Prize Recipients, and NYSCF Research Institute scientists and engineers. The NYSCF Research Institute is an acknowledged world leader in stem cell research and in developing pioneering stem cell technologies, including the NYSCF Global Stem Cell ArrayTM and in manufacturing stem cells for scientists around the globe. NYSCF focuses on translational research in a model designed to overcome barriers that slow discovery and replace silos with collaboration. For more information, visit www.nyscf.org.
About The Initiative for Neural Science, Disease & Engineering at Tufts University
The Initiative for Neural Science, Disease & Engineering (INSciDE@Tufts) is a new interdisciplinary center under the leadership of David Kaplan, PhD (Director; Professor & Chair, Biomedical Engineering), Michael Lovett, PhD (Deputy Director), and Thomas Nieland, PhD (Research Associate Professor, Biomedical Engineering). The goal of the initiative is to elucidate the molecular pathways and cellular and neural circuit defects that cause neurodegenerative and psychiatric disorders. The focus of INSciDE is to integrate bioengineering, stem cell biology, and regenerative medicine with technological innovation and therapeutic approaches to unravel the mechanisms of cognition and to uncover cures for neurological diseases, including Parkinson's Disease, Alzheimer's Disease, and Autism Spectrum Disorder. Tufts University, located on campuses in Boston, Medford/Somerville and Grafton, Massachusetts, and in Talloires, France, is recognized among the premier research universities in the United States. The university enjoys a global reputation for academic excellence and for the preparation of students as leaders in a wide range of professions. For more information on INSciDE@Tufts, visit go.tufts.edu/inscide.
Featured image: Bioengineered 3-dimensional brain tissue model comprised of neurons (green), astrocytes (red) and their nuclei (blue) to study the biology of human brain diseases. These cells were differentiated from human induced pluripotent stem cells and grown for more than 2 years in a 3D silk scaffold tailored to emulate the properties of native brain tissue. Fluorescence microscopy image courtesy of Nicolas Rouleau and William Cantley.