NYSCF Remembers Julian Robertson
News
NYSCF mourns the passing of our Leadership Council Member Julian Robertson. Since 2010, Julian and the Robertson Foundation have been transformational partners in several of NYSCF's most impactful programs and initiatives, catalyzing and advancing groundbreaking research across the fields of stem cell and neuroscience research.
"Julian cared deeply about building a better future for patients everywhere, and he was always able to see the potential in big, revolutionary ideas from bright young minds," reflected NYSCF CEO Susan Solomon. "He was a giant in many fields with a truly kind and innovative spirit." 
The Robertson Foundation's visionary support of the NYSCF – Robertson Stem Cell and Neuroscience Investigator Programs has, to date, transformed the careers of 77 investigators, who are global leaders in their respective fields. One of the unique aspects of this award, which provides $1.5 million over 5 years to early career scientists, is that its funding is unrestricted, allowing scientists to pursue big questions that would otherwise go unexplored.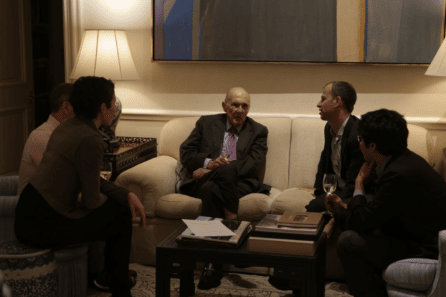 "We're investing in people who have the capability of making great change," Julian told The Wall Street Journal in 2010, noting that he preferred giving money to people rather than toward building projects or capital campaigns. "Just as I'd pick people to invest my money with, I'm picking the best minds with hopes of reaching a cure to some of these diseases."
The NYSCF – Robertson Investigators themselves emphasized that the people-centered focus of the award, as well as the cohesion and camaraderie of the greater NYSCF Innovator community, have been critical for their careers.
"This award has been catalytic for me in many ways," remarked NYSCF – Robertson Stem Cell Investigator Vijay Sankaran, MD, PhD. "Unlike a lot of the grants I've gotten in the past that tend to be focused on specific projects or that have specific goals, the NYSCF – Robertson Investigator award has allowed us to take on challenging projects that feed into the larger vision of the lab and can have a great impact on the field."
"I received the NYSCF – Robertson Stem Cell Investigator Award back in 2011, and I believe this award really frees scientists at a point in our careers where we have so many ideas and are inspired to change the world, but our labs are just starting up and we have to spend a lot of time on other things," agreed Paola Arlotta, PhD, NYSCF's Scientific Advisor and Chair of the Department of Stem Cells and Regenerative Biology at Harvard. "With this award, you can take big risks and pursue ideas that could really change the field, which is how science should always be done."
"Science is a community effort," emphasized NYSCF – Robertson Stem Cell Investigator Alumnus, CRISPR pioneer, and Professor of Biological Engineering at MIT Feng Zhang, PhD. "There is the experimental aspect, but the bigger and more important aspect is relational. Interactions are how new ideas are formed and advancements are made, and that's what this program has provided for myself and so many others."
The Robertson Foundation has also been a Principal Sponsor of The NYSCF Conference, the leading international translational stem cell meeting, every year since 2010. From 2011 – 2017, they funded the NYSCF – Robertson Stem Cell Prize, which was awarded to outstanding researchers conducting path breaking disease research. 
Julian had a keen eye for promising ideas, and his support was also integral to the development of the NYSCF Global Stem Cell Array®, our automated robotic platform for creating high quality, standardized stem cells at an unprecedented scale of hundreds at a time, allowing for more complex experiments and more impactful science that can better represent the diversity of our human population.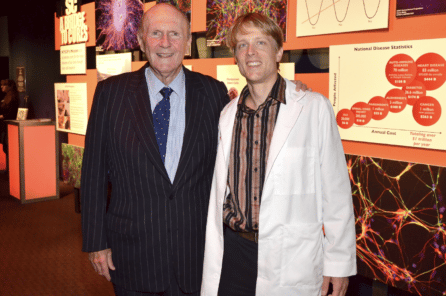 "When the NIH declined to fund our idea for the Array, the Robertson Foundation stepped in and provided a foundational matching grant that allowed us to pursue it," said NYSCF's Daniel Paull, PhD, Senior Vice President, Discovery & Platform Development. "Now, the Array is a transformational tool for labs everywhere, and a one-of-a-kind resource for research, drug testing, and therapeutic development. None of this would have been possible without Julian and the Robertson Foundation."
A pioneer in both his industry and philanthropic efforts, Julian's impact is unmatched. His legacy of empowering innovative young researchers continues to yield some of the greatest scientific and medical breakthroughs of our time. He will be dearly missed by the NYSCF community, and our thoughts are with his family and friends.