Parents Lead the Push for Rare Disease Cures
News
Video
A rare disease diagnosis for a loved one can be devastating. The majority of rare diseases are pediatric, meaning they affect children from birth or early infancy, and often, their consequences are deadly. Most rare diseases do not have treatments or cures, and research into them has traditionally been scarce and underfunded.
Today, parents of children affected by rare disease are leading the charge toward a brighter future for patients everywhere. This month, two such parents, Matt Wilsey (Chairman, President & Co-founder, Grace Science Foundation) and Leena Panwala (President and Co-founder, INADcure Foundation) shared their stories of launching organizations aimed at understanding and treating rare diseases as well as how partnerships with NYSCF are accelerating their work. The discussion also featured Daniel Paull, PhD (Senior Vice President, Discovery and Platform Development, NYSCF), who leads NYSCF's rare disease research, and was moderated by Raeka Aiyar, PhD (Associate Vice President of Scientific Outreach, NYSCF).
Matt's Story
Matt's journey began when his daughter, Grace, was diagnosed with NGLY1 Deficiency, a rare disease that can result in delayed development, intellectual disability, movement disorders, seizures, and liver disease.
"NGLY1 is [a gene] found in every system in our bodies, but primarily the central nervous system. That seems to be where patients are most affected, but we also see muscle and peripheral neuropathy in the liver," Matt explained. "As a parent, you'd do anything for your kids. [When Grace was diagnosed], we just knew that we had to mobilize because we had people telling us to go home and enjoy your daughter, and doctors telling us that she had five years to live. Given my background as an entrepreneur, I didn't want to sit back and take that avenue. I thought, 'We can do something about this.'"
Matt and his wife Kristen launched the Grace Science Foundation to catalyze studies of NGLY1 Deficiency and have partnered with various institutions including NYSCF to study the disease using stem cells.
"Very early on, we invested in stem cells [to study NGLY1 Deficiency]," he said. "We wanted to understand two things: first, which types of neurons are most affected and what leads to deterioration as a patient ages? Then, once we have that finding, to hammer those cells with different therapeutics and leverage them as our platform [for drug testing]."
At NYSCF, scientists are studying neurons derived from the stem cells of NGLY1 patients to pinpoint drivers of the disease and are producing stem cells from patients that will help other scientists scale up their research into the disease.
"Partnerships with places like NYSCF are super important to keep working with the parents and the advocates who are pushing forward," remarked Matt. "And there's a lot of hope in our world for NGLY1 Deficiency now because of collaborations like this."
Leena's Story
Leena shares a similar story: her daughter, Ariya, was diagnosed with the rare disease infantile neuroaxonal dystrophy (INAD) at age two, and Leena was shocked to find that not much was known about the disease.
"INAD is comparable to Parkinson's in that patients lose gross and fine motor skills, and it also mimics Alzheimer's in that there is a decline in cognitive function," she explained. "I just naturally assumed that there was research happening or some sort of treatment option available. My jaw dropped when we discovered that there was really nothing out there. We felt compelled to become a voice for the disease – to really bring some awareness to it and help advance the research." 
Following Ariya's diagnosis, Leena with her husband Anil and others launched INADcure to advocate for studies of INAD that will hopefully lead to a cure.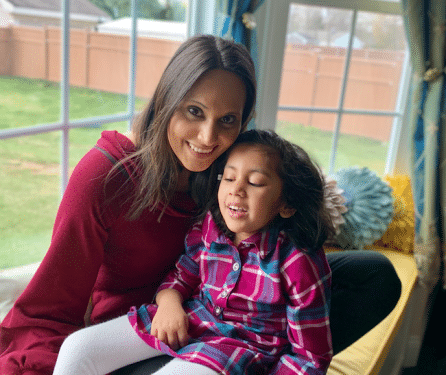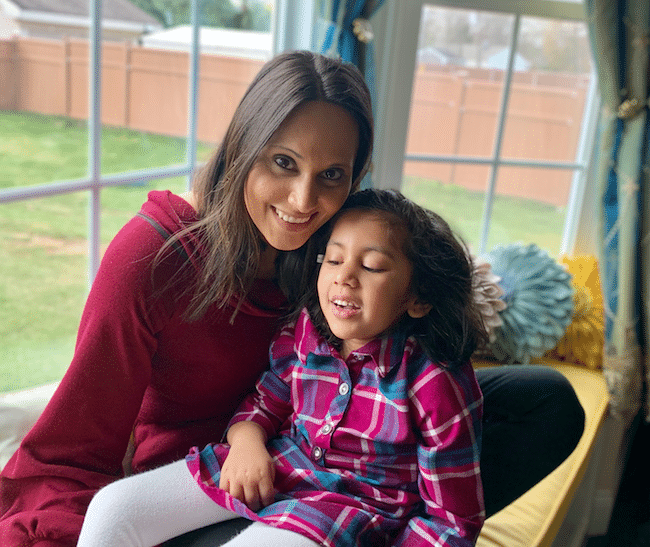 "I dove right in," said Leena. "I had limited experience in the medical field or in the nonprofit world, so I just learned as much as I could as I went along. I think my background in management allows me to coordinate with the researchers and bring everyone together to advance the research to a point where we can get some useful data from it that can ultimately help these children."
Leena reached out to NYSCF when she started reading about the transformational power of stem cells for understanding disease.
"It seemed that the knowledge we can gain from looking at stem cells was important for understanding the disease mechanisms and ultimately coming up with a more effective treatment option," she noted. "I'm so grateful to have an organization like NYSCF available so that we can make it easier to do sample collection from patients and from there turn those samples into stem cells that can be easily transferred to research labs anywhere. We can take a closer look at those cells to get a better understanding of the mechanisms behind INAD at the cellular level in these children. That has never been done before for INAD."
NYSCF scientists have also successfully used gene editing to correct for the INAD-causing mutation in stem cells. Doing this will help researchers observe exactly how the cells react, giving valuable insight into the mutation's impact.
"We are excited about all of this work – it's cutting edge for us. We're exploring all options. I think it's important to keep pushing all of them forward."
Read more about NYSCF's work to understand and accelerate treatments for rare diseases with stem cells