The Nuts and Bolts Behind Disease Research: Meet the NYSCF Engineers
News
What goes into successful disease research? Scientists, of course, who design and conduct experiments. Patients, who generously offer to donate their cells or participate in clinical trials. But one group you may not immediately consider are engineers: the people who design the equipment and software that powers disease research, leveraging cutting-edge technology to pave the path to cures.
At NYSCF, our state-of-the-art robotic system for creating stem cells – The NYSCF Global Stem Cell Array® – underscores everything we do. Our engineers keep The Array up and running, and continuously optimize it to ensure that our research is as impactful as possible.
We sat down with three of NYSCF's engineers to talk engineering, team science, and the future of disease research.
How does your role fit into the NYSCF ecosystem?
There are two major groups of engineers at NYSCF: hardware engineers (those who work on the physical aspects of the Array, such as making a robotic arm pick up a test tube) and software engineers (those who work on the virtual aspects of the Array, such as building a system to track experiments).
Jordan and Geoff work on the hardware side of the Array, making sure the mechanical components of the Array behave, and optimizing them to make research as smooth as possible.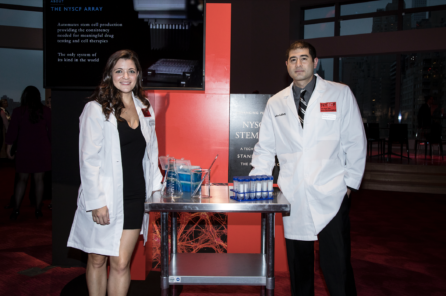 "As hardware engineers, we do everything from designing new components to mechanical repairs to troubleshooting and maintenance," notes Jordan. "We also develop workflows to help scientists run certain experiments, make them more consistent, or scale them up."
Sean leads NYSCF's software engineers, whose main responsibility is a system called the AppSuite. The AppSuite is a piece of software (think: Microsoft Word, or GarageBand) that helps scientists track and optimize all the complex logistics that go into disease research.
"The app suite is a pretty awesome, custom-built piece of software. It essentially allows us to track ourselves as we move through our laboratory, and it integrates with the robots – our liquid handlers, imagers, etc. – to streamline the entire experimental process, from when we first start making cells to when they reach quality control. Ultimately, it takes the housekeeping work off of the shoulders of the scientists, so they can better focus on the research."
Why is NYSCF's engineering important for disease research?
To do effective stem cell research, cells need to be as uniform as possible, so that the only differences between them are due to disease.
"Scientists have typically made stem cells by hand, and every stem cell line behaves differently depending on how it has been treated," remarks Jordan. "In science, we want everything to be as standardized as possible – the less human error is involved, the better we can tease apart what we're looking at."
"Typically, creating just 10-20 stem cell lines by hand takes 4-6 months. With the Array, however, we can make between 50 and 90 per week. Having these automated methods not only saves time, but makes the experiments we conduct more meaningful."
"As Jordan mentioned, it takes a lot of effort to create a stem cell line, and even if you hired a bunch of people to do it at the same rate as the Array, there's that consistency aspect," agrees Geoff. "At a certain point, you can't just keep throwing people at the problem."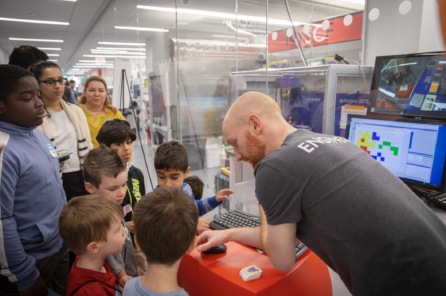 "Automation also frees up researchers to do things like read papers or design their experiments or analyze data," adds Jordan. "Geoff has enabled a lot of 24-hour, remote automation, where you can walk away from an experiment, and overnight the Array will generate scans of cells and provide data to help you when you return."
"I think [the Array] essentially provides the scaffolding to allow these brilliant scientists to come up with their experiments and their workflows," says Sean. "They can bring to life basically any workflow that they can dream up, and some simple organizational tools can help with the process of strategizing and predicting how experiments are going to run."
Why is the Array special to you?
The engineers also agree that the Array feels like an ever-evolving entity that learns from each person who works on it.
"I love the Array because it's like a reflection of all the people that have contributed to it," notes Jordan. "Everyone finds a way to improve the biology or the technology or the processes that underpin it. The way that it has evolved in such a responsive way is really special. And I also think that it's not really showing any signs of slowing down. I'm really excited to see what it's going to evolve into going forward."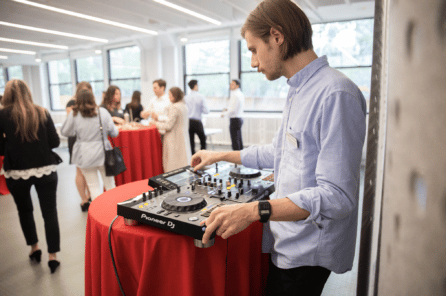 There are many little aspects of the Array that make it feel 'alive,' including songs that will go off to signal that a process is complete or something requires attention. Current songs on that playlist include Taylor Swift's 'Shake it Off', Beethoven's 'Fur Elise', Men at Work's 'It's a Mistake', and The Meters' 'Cissy Strut'. 
"When those songs go off, it does feel a bit like the Array is DJ-ing," laughs Sean. "Admittedly us scientists and engineers have developed such strong reactions to those songs that we can't really listen to them outside of work anymore."
"At this point, the Array feels so much like its own person that maybe we should just drop the name 'Array' and call it 'Ray,'" he adds.
What is the biggest challenge in your job?
"When we moved down here [to NYSCF HQ in Hell's Kitchen], we overhauled a lot of the way the automation was set up. I remember there being quite a bit of running around to get things back up and running as quickly as possible," recalls Geoff.
Another challenge is balancing the present and future.
"As things get busier and busier, there's the ongoing challenge of juggling the day-to-day stuff like fixing a bug or some misbehaving hardware with the process of designing and implementing the 'next generation' of the systems," says Jordan.
On the software side, the challenge was simply establishing and growing a team.
"What's interesting is that the software engineering team here kind of arose out of nothing," explains Sean. "So constantly the biggest challenge and the biggest accomplishment every year is, I think, scaling up and maturing our team and how we collaborate with others. The ecosystem that we've built is pretty huge, which I think is a testament to our relatively small team." 
What do you like most about your job?
"I enjoy building something that hasn't been built before or doesn't exist anywhere else," says Jordan. "We have a lot of boutique methods that are meant to be very flexible and very good at working with cells, even if that's not what some of our instrumentation was originally designed for."
"The Array is a very unique animal on the technical side, so a lot of traditional solutions may not fit our needs. There ends up being a lot of opportunities for creative solutions to various problems, which is always very fun," adds Geoff.
For Sean, seeing how the thousands of lines of code he writes can go on to enable powerful science has been especially rewarding.
"I like being so close to the biology and getting to see the impact that my work makes on disease research," he says. "It's so immediate, which is really rare and cool."
What's special to you about NYSCF's team science approach?
"I would say what's special about the NYSCF team science approach is how willing everyone is to go out of their comfort zone a little bit and learn about the adjacent teams so they can digest the basics of it. I think how the team translates their own slice of the pie so that everyone can understand it just leads to this really beautiful intersection of different specializations."
"Our team is pretty diverse, so regularly just learning cool new stuff from other people has been a real highlight for me," agrees Geoff.
"It's so special that at NYSCF, a researcher can just walk up to us if they have an engineering question and we can brainstorm on a whiteboard and figure things out together," adds Jordan. "Having all of us under one roof really accelerates the work that we do." 
"We have people from a physics background. Geoff has a mechanical and biomedical engineering background. Our colleague Reid had a chemistry background. It's very much a reflection of the stem cell field in general, which encompasses a lot of disciplines. We really enjoy learning from each other."
Reid, a former NYSCF engineer who worked on the team for many years, sadly passed away in 2021. The engineers reflected on his impact, and how he truly embodied the spirit of team science.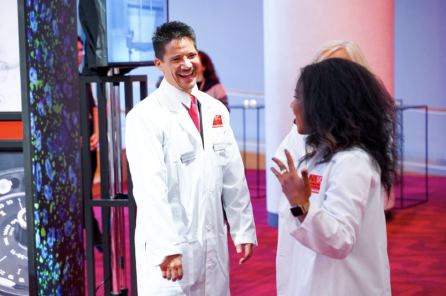 "He was a good friend and mentor, first and foremost. He was the best to learn from, and he really catapulted my career development," reflects Jordan. "We were once talking about what job we would be doing if we weren't automation engineers, and he mentioned he would like to be a teacher. It was so clear to me, how he was so patient and helpful, that he would have been as incredible a teacher as he was an engineer. He had the perfect kindness and attitude to inspire others."
"It's funny – one of his few faults was that he would never ask anyone on the team to do something that he wasn't perfectly willing to do himself, and he was very generous with his time," remembers Geoff. "He would just go and do stuff knowing full well he had plenty of other things to do. He was always selfless in that way. I can only agree with Jordan that I can't imagine what the Array – or my career – would have been like without him."
What are you most proud of when it comes to engineering at NYSCF?
The engineers are proud to be part of the NYSCF team and of the science they've enabled, even throughout recent trying times.
"Especially when you have as many different groups using the robots as we do, there's a lot of different software and hardware components that need to be in place to allow that to happen," says Jordan. "There's a lot of work that goes into helping everything function in concert with one another, and that's thanks to dedication and teamwork from everyone who works here."
"Especially in the crazy years of 2020 and 2021, I was so impressed with how our teams were able to keep operating," adds Geoff.  "All things considered, I think we did a pretty good job keeping the science on-track, and I'm really proud of my colleagues."
They are also proud to inspire the next generation of engineers, and hope young people will continue to strive for better treatments and cures through STEM.
"I'm also proud of the young people we've inspired to pursue engineering through outreach and internship programs," says Sean. "I hope if any aspiring engineers or coders are reading this, that they'll consider going into disease research, or even coming to work here someday."