Science Powered by Patients: Highlights of the 2023 NYSCF Gala & Science Fair
News
"What was once science fiction is now just science that we are turning into a medical reality for patients," noted NYSCF Board Member Clyde Williams in his remarks at this year's NYSCF Gala & Science Fair. "From diabetes to Alzheimer's, cancer, autism, PTSD, and many others, NYSCF is advancing and accelerating tangible progress for patients in need. Because let's not forget, at some point in all of our lives, we ourselves, or someone we love, will become patients."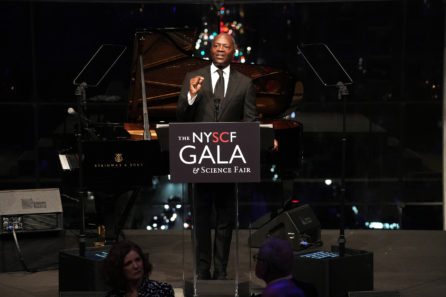 At this year's gala, patients took center stage as members of our community shared their journeys as advocates, and scientists provided exciting updates on how stem cells are paving the way for cures.
A Laboratory at Lincoln Center
The last place you'd probably expect to find robots and microscopes is in a performance hall, but as we do for each gala, NYSCF brought the magic of a scientific laboratory to guests at our Science Fair.
Participants could explore how artificial intelligence finds new features of disease, see how scientists turn stem cells into all the different cells in the body to study and treat disease, watch robots perform experiments, and even observe live cells under a microscope.
Honoring Three Stem Cell Heroes
We were proud to recognize this year's Stem Cell Heroes – Kay Unger, Feng Zhang, PhD, and Janet & Jerry Zucker – for their longstanding partnership with NYSCF, and tremendous contributions to patients and stem cell science through research, advocacy, and action.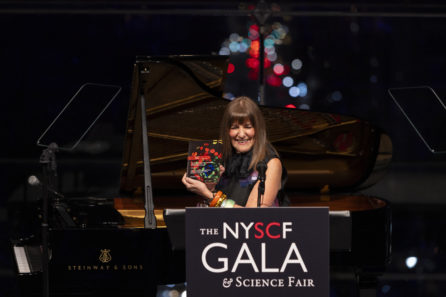 "When I peer into a microscope, I am struck with the beauty of the stem cells – moving and glowing in all sorts of patterns," noted Kay, a NYSCF Board Member and accomplished fashion designer. "When I think of what I can do for NYSCF, I think, sure, I can make their standard white coats more colorful, but what I can really do is create a safe space for the work of NYSCF to proceed."
"NYSCF is a community, and being a part of the Investigator program introduced me to brilliant scientists who I admired very much," said Dr. Zhang. "Having that support was very meaningful, and it's a tremendous honor to be recognized."
"In 1999, at age 11, our daughter Katie was diagnosed with type one diabetes," shared Jerry. "We were devastated. But I'll never forget that next morning in the hospital, watching the doctor lift up a bottle of insulin, draw the liquid into a syringe and inject it into Katie's arm. Twenty minutes later, she was running around the room, joking, laughing, and talking a mile a minute. The liquid in that bottle had given us our daughter back. It was a stunning moment, and it reminded us that cures don't come from doctors or pharmacists. They come from scientists."
Janet then shared a message from Katie herself, who is now 35 years old and runs a production company.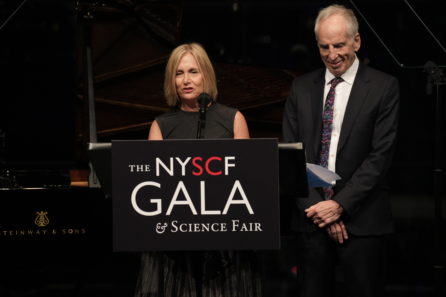 "The one thing that I've been consistently told that never bothered me is that I was lucky," she said. "This might seem odd to be told that I'm lucky, but I am, and I owe that to science. A diabetic doesn't live very long without insulin, so I am lucky."
"I'm lucky that we have technology, and that scientists are constantly finding new ways to make our lives better. The fact that stem cells can now make beta cells that secrete insulin. I urge everyone to appreciate how far we've come, how quickly we're moving forward, and to all the scientists in this room, in the audience, thank you for making me feel a little less sick, a little less tired, a little less overwhelmed."
An Inspiring and Uplifting Evening
This year's gala featured musical performances by Broadway veterans Tom Kitt & Caissie Levy, who performed crowd favorites "I miss the mountains" and "Let it Go" from Next to Normal and Frozen. Tom is currently working with Jerry on a new musical.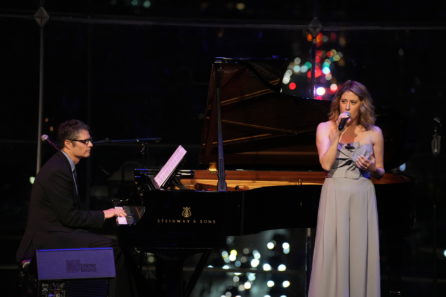 Fellow Broadway powerhouse Annaleigh Ashford returned to the gala as host, after starring in our past virtual galas.
"Having played a part in both of NYSCF's virtual galas, it's an absolute delight to be amongst all of you in person this year. The last time you saw me at a NYSCF Gala I was wearing a lab coat on top and pajamas on bottom sitting at a computer," she joked.
"Tonight, we're celebrating science and the sharpest and most pioneering tool in modern medicine: stem cells," she said. "We are gathered here this evening because we know the promise and impact of stem cell research touches us all."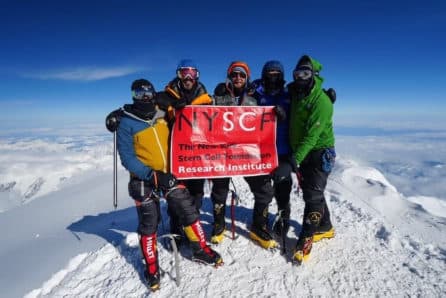 NYSCF also recognized five patient advocates in the room who climbed Denali – the highest peak in North America – in support of NYSCF this past May. 
"The team journeyed for 21 days under the most grueling conditions and succeeded in bringing the NYSCF flag to the summit of Denali," shared NYSCF Board Chair Roy Geronemus, MD. "Their commitment and achievement is an inspiring testament to the lengths — and heights — to which our community will go to support our cause and make a tangible impact for patients."
Dr. Geronemus then introduced a patient advocate very close to his heart: his grandniece Leah.
Leah, age 9, has type 1 diabetes. Stem cells give her hope for a cure.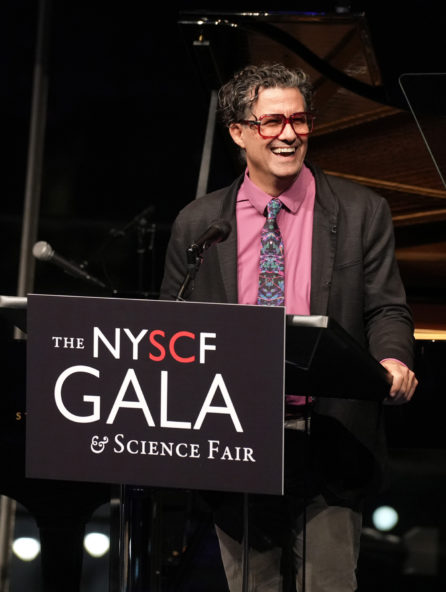 "I was diagnosed when I was only five years old. I want people to know that living with this autoimmune disease is not easy. In fact, it is totally unpredictable," she shared. "All the beta cells in my body – the ones that produce insulin – got attacked by my very own body and stopped working. The New York Stem Cell Foundation is using stem cells to try and make beta cells that my body won't attack. This gives me and my family hope. Hope for a cure, hope for better treatments, hope for a carefree childhood, hope for a long life without health complications, and hope for a world without type 1 diabetes."
"As a scientist that has seen how great science can transform patients' lives, I can honestly say that what we are doing at NYSCF is truly unique," noted NYSCF Interim CEO Derrick Rossi, PhD. "The science done at the NYSCF Research Institute is very, very powerful, and it is poised to give rise to important new therapies for devastating diseases such as Alzheimer's disease, Parkinson's disease, and other devastating diseases. Breathtaking, field-leading, and so very important for patients."
Interested in joining the fight for cures? Visit https://nyscf.org/donate/ways-to-give/ 
Read more:
The 2023 NYSCF Gala & Science Fair: A Stellar Evening of Science and Philanthropy (Resident.com)
New York Stem Cell Foundation Highlights Honorees and Supports Stem Cell Research with Gala and Science Fair (The Knockturnal)
Photos: Caissie Levy, Annaleigh Ashford & More Come Out to Support the New York Stem Cell Foundation (Broadway World)