Shifting Paradigms in Research and Treatment of Women's Reproductive Cancers
News
Video
Women's reproductive cancers—such as ovarian cancer, endometrial cancer, uterine cancer, and cervical cancer—are especially difficult to treat. Mortality rates are high (32,000 women die from these cancers each year in the U.S.); funding is low (taking into account incidence and mortality, ovarian cancer receives nearly 20 times less funding than prostate cancer); and current therapies often cannot combat the frequent relapse and resistance. NYSCF is now taking on these challenges with its new Women's Reproductive Cancers Initiative, launched last week with a panel discussion focused on improving outcomes for these patients.
Watch highlights from the discussion
"For a patient with ovarian cancer, the standard of care is surgery followed by several rounds of generic chemotherapy," NYSCF Senior Principal Scientist Laura Andres-Martin, PhD, explained to the audience. "But no two patients are the same, and no two tumors are the same, so we cannot treat everyone with the same drugs."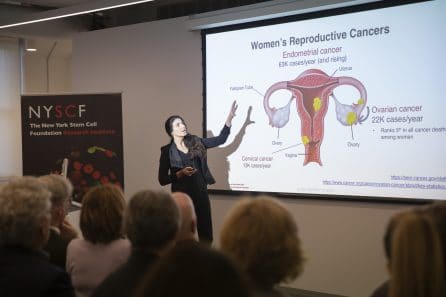 At this event, leading cancer physicians and researchers discussed what needs to change to bring more effective, personalized treatments to women with reproductive cancers. The discussion was moderated by NYSCF CEO Susan L. Solomon, JD, and featured Dr. Andres-Martin, Carla Grandori, MD, PhD (CEO, SEngine Precision Medicine), Ursula Matulonis, MD (Chief of Gynecologic Oncology, Dana-Farber Cancer Institute), and Siddhartha Mukherjee, MD, DPhil (Assistant Professor of Medicine, Columbia Medical School).
"When old things don't work, we need to try new things," said Dr. Mukherjee. "We need to bring back into oncology that spirit of adventure that brought about great advances in cancer drug development."
Applying fresh, innovative approaches to shift paradigms in the way women's reproductive cancers are studied and treated is the mission of NYSCF's Women's Reproductive Cancers Initiative. The Initiative is guided by a Scientific Advisory Board of world-leading cancer researchers and physicians, including Drs. Grandori, Matulonis, and Mukherjee. The Initiative will bring the latest technologies and advances in stem cell research to bear on the unmet needs of women with reproductive cancers, starting with ovarian cancer, where the need is especially high.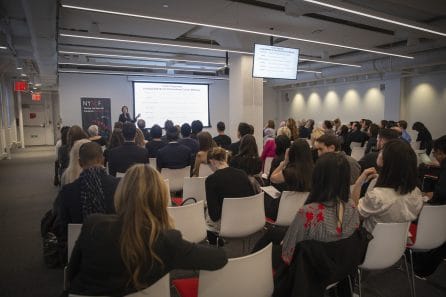 Scientists typically study tumors by taking biopsies from patients, but these samples can only live outside the body for a short period of time, limiting the number of experiments researchers can use them for. The NYSCF initiative will use samples of patient tumors to generate stem cells and organoids (3D aggregates of tumor tissue that recapitulate how cells interact) that have an unlimited lifespan. With a biobank of patient-specific tumor tissue that never "expires," scientists can continue to study its properties and responses to drugs with infinite experiments – providing a foundational resource for the wider research community.
"If all of biology is information, then cancer is misinformation," explained Dr. Mukherjee. "We need to create a bank of this misinformation, so we can understand the code that drives the growth of these cancers and then find a way to disrupt that code."
Cracking the code that dictates how cancers grow would open the door for early detection strategies, which ovarian cancer desperately needs. 70% of ovarian cancer cases are diagnosed at late stages, and these patients have a 5-year survival rate of just 29.2%.
Dr. Grandori highlighted the importance of personalized models for capturing the unique qualities of each patient's tumors and informing treatment strategies.
"Every patient's cancer is a unique mosaic of alterations," Dr. Grandori explained. "Having personalized models will allow us to build rules around which treatments work for which patients and essentially run clinical trials outside the patient's body at a much lower cost."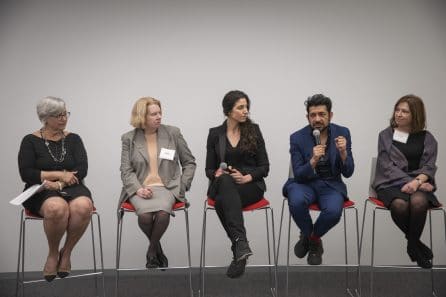 Dr. Matulonis is a pioneer in the development of personalized ovarian cancer treatments. She played an integral role in bringing PARP inhibitors —the most successful targeted ovarian cancer drugs thus far – to patients.
"Prior to 2008, there hadn't been a drug approved for ovarian cancer in about 10 years," she explained. "Once it became evident that PARP inhibitors were working, especially in women with BRCA mutations, the field of oncology changed significantly. PARP inhibitors really turned things around and are leading to real improvements in how women survive their cancer."
She is optimistic that the field will continue to evolve as we learn more about the mechanisms of ovarian cancer and that the methods used by the NYSCF Initiative will make targeted treatments even more effective.
"I think now is a very exciting time. There's a significant amount of hard work ahead, but organoids are a great tool to help us make an impact."
Ms. Solomon is also confident in the power of stem cells to improve outcomes for women suffering from devastating cancers.
"We have an enormous opportunity before us to improve the outcomes for women with reproductive cancers. Stem cell technology presents us with new opportunities to find more personalized and effective treatments, and therefore to create new hope for these patients."