Teens Tackle Stem Cell Science for a Week Of Hands-On STEM Education
News
If you walked by the NYSCF labs during the last week of August, you might see some new, young, eager faces (or a few frustrated ones if they were pipetting). These were high school students participating in our Summer Immersive – four days of scientific exploration aimed at providing the next generation of scientists with tools and resources to inform their career journeys. 
Learning in the Lab
The NYSCF labs are a far cry from a high school science classroom – think: less Bunsen burners and more high-tech robots. The Immersive offers students the opportunity to learn valuable lab skills in a professional lab environment, all while becoming familiar with the research process as well as how all the scientific and engineering teams at NYSCF work together.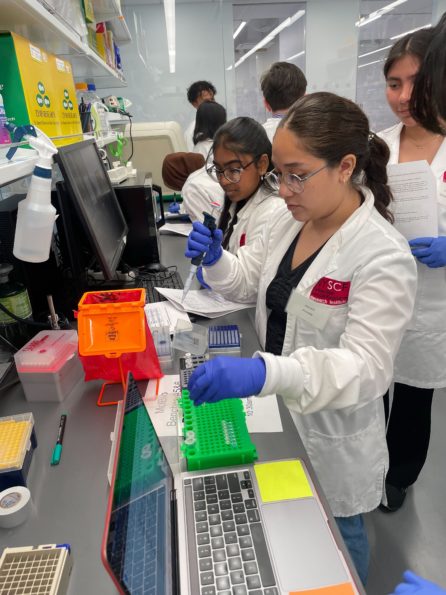 "I'm interested in bioengineering, so coming here and seeing all the robotics has been so cool," remarked one student. "I'm also really interested in collaboration across different areas of science, and everything at NYSCF is under one roof, so seeing how the different groups work together was also valuable."
"I've done experiments in my high school science classes, but never in a lab as big and professional as this," added another. "It was really exciting to get to do hands-on work somewhere like this."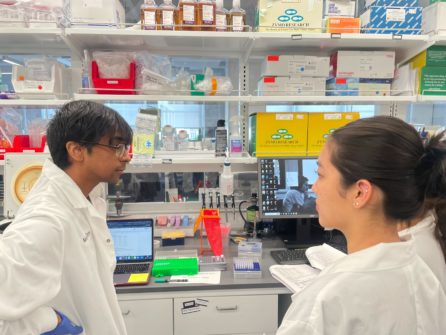 "It's exciting to guide students through these lab procedures that might feel like second nature to us now, but were once new, exciting, and even maybe a little confusing sometimes," said Neeloy Bose, a NYSCF scientist who mentored students in the lab. "It's fun to revisit that stage in my life and help get young people excited about science."
Building Professional Skills
The students also participated in workshops focused on important topics in the workplace, such as resume writing, interviewing, science communications, and supporting minoritized talent in STEM.
NYSCF External Programs Manager Myriah Smith shared learnings from NYSCF's Initiative on Women in Science and Engineering (IWISE) as well as strategies to support minorities in STEM.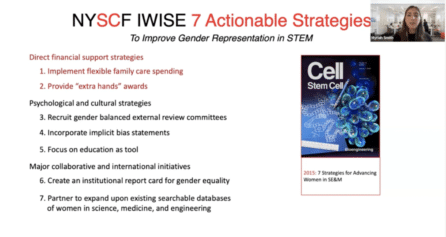 "As you progress in your journey in STEM, there's many ways you can work to combat inequities," shared Myriah. "This includes being aware of personal biases, promoting minoritized scientists and their work, refusing to join all-male panels or committees, nominating women (or yourself!) for awards or leadership positions, as well as simply educating yourself and others on these issues, which you are all already doing just by being here today."
Sandra Capellera-Garcia, PhD, NYSCF's Scientific Outreach Manager, highlighted tips for making science accessible and exciting – whether through publications, grants, posters, or any form of communication.
"Science communication is incredibly important for many reasons," she explained. "All the research we do is useless if no one knows about it. Every funding source we have depends on effective communication, and how we speak and write about what we do can even spark new collaborations and establish ourselves as leaders in the field, allowing us to keep doing impactful science."
Exploring Paths in STEM
There are many different careers one can embark on in STEM, and many of them are represented within NYSCF itself. Through panel discussions and lunch chats with staff, students could learn more about the options available to them, and ask questions about the professional journeys of different team members.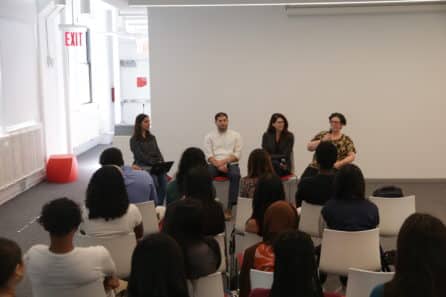 "I really enjoy being a part of all the science that happens here, even if I'm not in the lab," noted NYSCF Associate Vice President of IP Tech Transactions & Legal Affairs Corvis Richardson, JD. "And especially with our clinical program, we'll hopefully see a lot of tangible results in patients soon, which is really exciting and motivating."
"I've learned about so many different paths within science, including academia, nonprofits, and biotech, which has helped me better understand my options," remarked one student.
Altogether, the students left inspired by their week in the heart of science, as well as what is possible when you think big.
"I like NYSCF's emphasis on high-risk, high-reward work, as it seems like that's the especially creative side of science that can have big payoffs," said a student.
"There's so much we don't know, and this experience has shown me what discovery can look like."