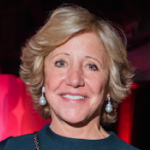 Peggy Brim
Chair of the Dean's Council at Yale School of Medicine
Bio
Peggy Brim has had a long and very distinguished career as a writer, director and producer in television and film journalism. After graduating in Yale College's first class of women, she joined ABC Sports. There she worked in all facets of sports journalism, including producing the first 80 "Up Close and Personal" Olympic athletes' profiles. She then became a show producer for ABC News where, at the age of 26, she launched the ABC news magazine show 20/20. Also while at ABC News, she was a senior assistant to Roone Arledge, working closely with him on the recreation of ABC News, which subsequently became the premier news network. She won an Emmy Award winner for her work at 20/20 and is the recipient of the Writers Guild Award for Outstanding Television Documentary for producing a pioneering investigation on the Love Canal.
Many of her philanthropic interests have centered on science and medicine and the integration of science, engineering and technology. She has been a member of the Bio-Diversity Council of the Museum of Natural History. She is a third-term member of the Yale President's University Council, which advises Yale's President and Officers about selected academic and administrative issues. In that capacity, she was instrumental in creating a collaborative program for engineering and design students at the Yale Engineering School.

Peg has served for seven years as Chair of the Dean's Council of the Yale School of Medicine, which, with a billion dollar budget, is half of Yale University's total. In that capacity, she has worked closely with the Dean of the Yale School of Medicine. The School of Medicine has 26 research departments and other post graduate institutes. It is a leader across all medical fields, including long term leadership in cell biology, immunology, genomics and now molecular profiling of cancer patients at the new Smilow Cancer Hospital at Yale-New Haven.
Peg first became interested in the promise of stem cells after visiting the lab of NYSCF Medical Advisory Board Member Haifan Lin. He is director of the Yale Stem Cell Institute at the Yale School of Medicine, where NYSCF has funded several post-doctoral fellows.