As we enter 2020, we're taking a moment to look back at the incredible advancements of 2019. From forming new precision medicine partnerships to sending multiple sclerosis and Parkinson's-affected cells to space, it has been a year of exciting growth and inspiring science. Check out some highlights below!
1. NYSCF Partners with Johns Hopkins University and Bloomberg Philanthropies to Advance Precision Medicine
A new initiative between the NYSCF Research Institute, Johns Hopkins University School of Medicine, and Bloomberg Philanthropies is accelerating precision medicine using the power of stem cell research.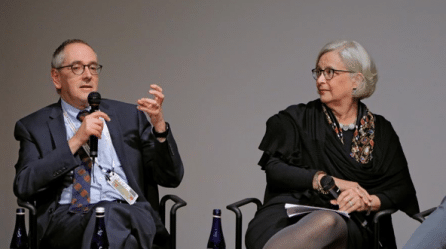 The collaboration combines the renowned clinical and medical expertise of Johns Hopkins with our unique stem cell technologies and research capabilities to accelerate Hopkins' pioneering Precision Medicine Initiatives.
2. NYSCF Hosts Educational and Outreach Events, with Conference Keynote from Shinya Yamanaka
Throughout the year, we host events that brought scientists, students, and the public together to discuss the future of stem cell research and disease treatment. Our 2019 events focused on topics such as precision medicine, gene editing, type 1 diabetes, women's reproductive cancers, bringing stem cell science to patients, Alzheimer's disease, and educating students about science through our annual Family Stem Cell Day.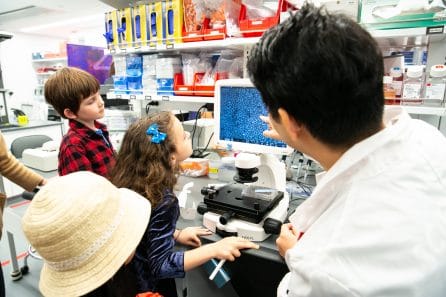 At the 2019 NYSCF Conference, over 500 researchers, students, and thought leaders gathered to share their latest findings in translational stem cell research, highlighting how stem cells are being used to illuminate disease mechanisms and discover new therapies. The meeting featured keynotes from Nobel Laureate Shinya Yamanaka, MD, PhD, who discovered induced pluripotent stem cells in 2006 as well as Hans Clevers, MD, PhD, a pioneer in 'organoid' models of human disease.
3. Multiple Sclerosis and Parkinson's-Affected Cells Take to Space as Part of NYSCF Collaboration
Brain cells derived from the stem cells of multiple sclerosis and Parkinson's disease patients have reached the International Space Station!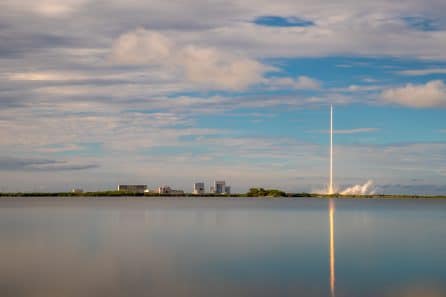 In December, SpaceX flight CRS-19 launched from Cape Canaveral, carrying the components for the first-ever long-term study of patient cells in microgravity. This project — a collaboration between NYSCF, Aspen Neuroscience, and Space Tango, and funded by the National Stem Cell Foundation — aims to better understand the role of microglia (the brain's immune cells) in these diseases and uncover targets for new treatments. An initial launch took place in July to test the setup for these experiments.
4. NYSCF Launches Women's Reproductive Cancers Initiative
Women's reproductive cancers — such as ovarian, endometrial, uterine, and cervical cancer — are especially difficult to treat. Mortality rates are high (32,000 women die from these cancers each year in the U.S.); funding is low (taking into account incidence and mortality, ovarian cancer receives nearly 20 times less funding than prostate cancer); and current therapies often cannot combat frequent relapse and resistance.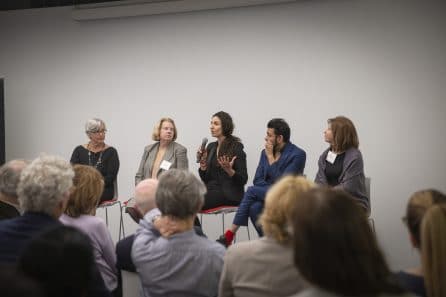 We are taking on these challenges with our new Women's Reproductive Cancers Initiative, aimed at changing the way this group of diseases are studied and treated by creating organoids (personalized 3D cancer models with an infinite lifespan) to advance precision oncology research and drug testing.
This Initiative was launched with a panel discussion featuring members of its Scientific Advisory Board.
5. Grades Are In: NYSCF Gender Equality Report Card Shows that Women Continue to be Underrepresented in STEM Leadership
Our Initiative on Women in Science and Engineering set out to take on gender disparities in the research workforce by proposing 7 actionable strategies in 2014. One included the NYSCF Institutional Report Card for Gender Equality, which we have been using for the past 4 years to evaluate the representation of women in STEM across more than 500 institutions. The results, published this September in Cell Stem Cell, show no significant improvements over the years and persistent disparities in the recruitment and retention of women in leadership and decision-making positions.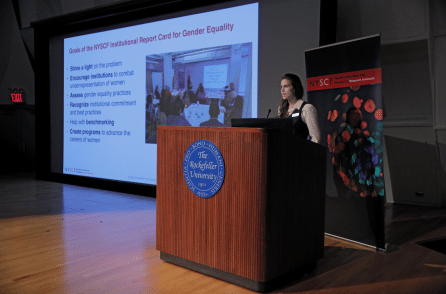 "To reach treatments and cures, we need full participation in science and medicine," says NYSCF CEO Susan L. Solomon, JD. "What is critical to take home from our study is that we all have work to do, and while unconscious bias remains a major obstacle, institutions have a unique opportunity to improve this persistent gender disparity by adopting our 7 actionable strategies."