2021 has been a banner year for science. With your support, we opened a new laboratory for creating clinical-grade cells to treat blindness, created stem cell models that reflect the intricacies of an Alzheimer's brain, unpacked the future of the COVID-19 pandemic with experts, and much more. Check out some highlights from this year below.
Stem Cells Give a Glimpse Into Alzheimer's and the Aging Brain
Nearly 1 in 3 seniors die with Alzheimer's or a related dementia, yet very few treatments or preventive options are available. Understanding how exactly cells in patient brains deteriorate as they age – and how this process differs across patients – has been a major challenge.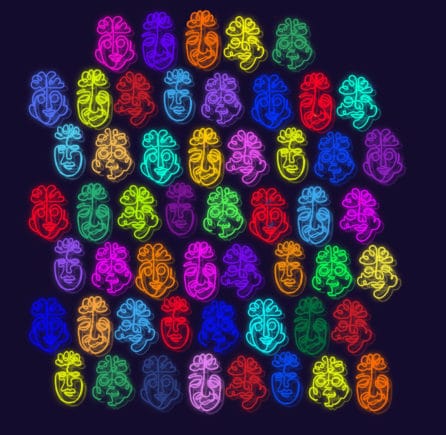 A new study in Neuron by NYSCF scientists including Scott Noggle, PhD, and led by Tracy Young-Pearse, PhD, of Harvard Medical School and Brigham and Women's Hospital, reveals the power of stem cell models for capturing features of aging brains in a continuum from healthy to severe Alzheimer's disease. This study serves as a proof-of-concept that neurons created from stem cells of patients show the same features as their brain tissue, demonstrating that these cells can be used to gain insights into how the brain ages differently in different people, leading to Alzheimer's in some but not in others. 
Learn more about the study and hear experts discuss its impact.
NYSCF Advances Toward a Cell Therapy for Age-Related Blindness
For patients with age-related macular degeneration (AMD), a cell therapy in development at the NYSCF Research Institute could provide what sounds like a miracle: the restoration of their sight.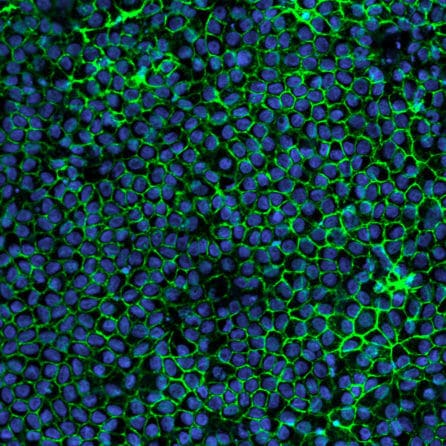 NYSCF scientists will create healthy retinal pigmented epithelial (RPE) cells (those lost in the disease) from induced pluripotent stem cells — stem cells that are generated from each patient's blood cells — to replace the damaged cells in the eye and restore vision. The RPE cells will be placed onto a specially designed patch and surgically implanted behind the retina by surgeons at Columbia University – NY Presbyterian Hospital led by Stanley Chang, MD, Stephen Tsang, MD, and Tongalp Tezel, MD, whose infrastructure and expertise will accelerate the process of bringing the technology to patients.
This year, we completed construction of our in-house, state-of-the-art good manufacturing practice (GMP) facility to create clinical-grade cells compliant with FDA requirements. This facility is now being used to generate cells, marking a major milestone toward reaching patients.
Learn more about our AMD program and hear experts discuss the promise of this therapy.
Accelerating Solutions for COVID-19 and Bringing Updates to the Public
This year, we hosted several events aimed at answering key questions on issues surrounding the COVID-19 pandemic such as: how can we ensure that vaccines are distributed ethically and efficiently, what is important to know about variants and immunity, and what will it take to bring us out of this pandemic?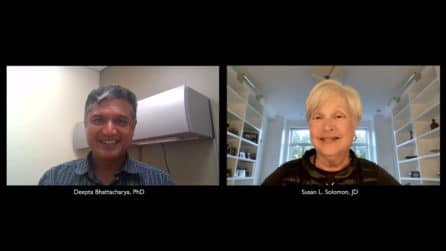 Watch full discussions:
We also saw several exciting advancements from our Innovator community to understand COVID-19 mechanisms and immunity:
NYSCF – Robertson Stem Cell Investigator Alumnus

Deepta Bhattacharya, PhD

, showed the

importance of booster shots

for boosting immune responses in people undergoing chemotherapy in a recent

Nature Medicine

study.

People who develop severe COVID-19 have

blunted antiviral responses in the nose and throat

– a possible reason why some people experience worse COVID-19 than others –  finds a study in

Cell

by NYSCF – Robertson Stem Cell Investigator

José Ordovás-Montañés, PhD

, of Boston Children's Hospital.

Research published in

Nature

and

featured in

National Geographic

from NYSCF – Robertson Stem Cell Investigator Alumna

Shuibing Chen, PhD

, of Weill Cornell Medicine in collaboration with National Institutes of Health Director

Francis Collins, MD, PhD

, discovered that the SARS-CoV-2 virus can infect pancreatic beta cells and interfere with their ability to produce insulin or kill them off, essentially triggering diabetes.
Uncovering the Secrets of Disease with Artificial Intelligence
At NYSCF, we are pioneering a new artificial intelligence-driven platform to uncover hidden features of diseases, improve the way disease research is conducted, and develop personalized treatment plans.
Parkinson's  disease  (PD)  drugs  have  not  fared well in clinical trials, suggesting that  there  is more  to  the  disease  than  we  currently understand. NYSCF scientists are using advanced imaging combined with  AI  analysis  to  unlock  insights  into  what might drive the disease.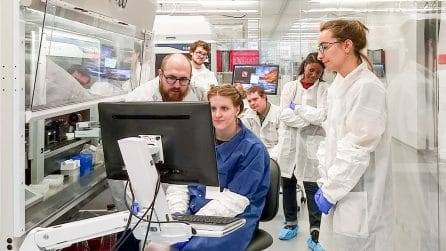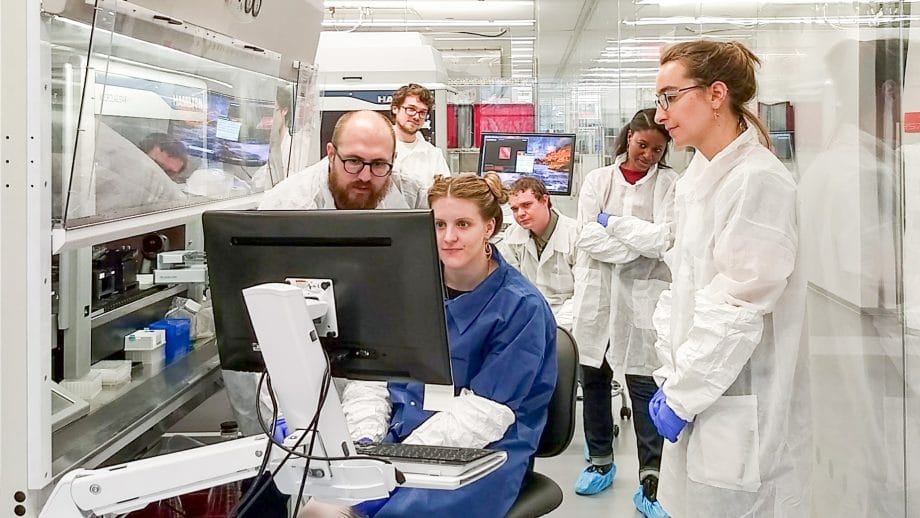 AI is also improving how NYSCF scientists make stem cells. Without it, scientists have to manually examine dishes of  cells  to  make  sure  they  are  developing  properly.  Now,  thanks  to a new AI-driven platform called Monoqlo developed by  NYSCF  scientists as well as a  partnership  with  the  Two  Sigma  Data  Clinic  –  the  pro  bono  data  science  and  tech-for-good arm of Two Sigma – robots  can  chip  in  to  analyze  images  of  growing  cells  and  determine if they are ready to move on to the next stage of the process.
NYSCF Innovators are also using AI to  augment  their  research  in  novel  and  transformative  ways.  With  his  AI-driven  platform  Storyline,  NYSCF  –  Robertson  Neuroscience Investigator Alumnus  Chris Gregg,  PhD  (University  of  Utah),  aims  to revolutionize the way we study and treat mental health disorders. Storyline participants record video responses to questions typically asked in a doctor's office (i.e. "What is your biggest concern today?") and submit them to a smartphone app. That information is then used to determine the best care pathway for each person.
Celebrities and Supporters 'Show Up for Science' at the NYSCF Gala
On October 5th, celebrities, scientists, and supporters 'showed up for science' at the The 2021 New York Stem Cell Foundation Gala. Hosted by CNN's Chief Medical Correspondent Sanjay Gupta, MD, and directed by Tony Nominee Scott Ellis, the Gala featured the latest updates and breakthroughs in stem cell research, bringing the world of the NYSCF Research Institute laboratories to life via a multi-platform digital experience.
Watch the star-studded program with appearances by Jennifer Garner, Bradley Cooper, Martha Stewart, Jane Krakowski, Tony Shalhoub, Jesse Williams, Whoopi Goldberg, and others to learn how NYSCF uses stem cells to better understand disease, discover new and better drugs, and accelerate research towards cures.
Translating Discoveries into Medicine, Advancing Equity in Science, and New Cancer Therapies: Highlights of the NYSCF Conference
This October, we hosted the 16th annual NYSCF Conference on translational stem cell research, bringing together luminaries of the field to present and discuss the latest advances stem cells are enabling in the understanding and treatment of many major diseases.
This year's meeting, held virtually for the second consecutive year, was one of the most diverse and highly attended to date, hosting over 600 participants from academia, industry, government, nonprofits, and patient groups. Keynote speaker Derrick Rossi, PhD (founder of Moderna Therapeutics, NYSCF – Robertson Investigator Alumnus, and NYSCF Board Member) along with plenary speakers Tony Coles, MD (CEO, Cerevel Therapeutics), and Michelle McMurry-Heath, MD, PhD (President and CEO, BIO) shared their unique perspectives and experience on translating discoveries into new therapies.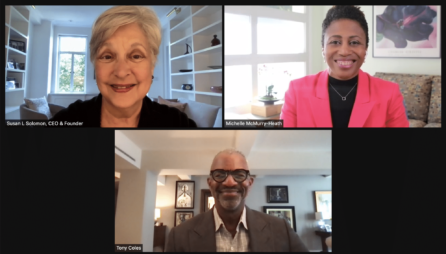 The meeting also featured several engaging panel discussions on critical and timely topics, such as next-generation cancer therapies and how to advance the values of diversity, equity, inclusion, and belonging (DEIB) in the STEM research community.
Read highlights and watch panel discussions here.
NYSCF Research Institute Named One of Four New Biotech R&D Facilities by NYC
The mayor's office announced this January an investment in four new biotech research and development facilities, including the NYSCF Research Institute. This grant will support equipment at the NYSCF Research Institute that will help scale up our studies and drug discovery efforts in diseases such as Alzheimer's, diabetes, cancer, and more.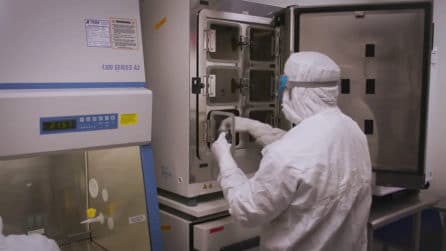 "New York City's prioritization of the life sciences has not only delivered thousands of new jobs and fostered tremendous innovation, it has also yielded meaningful scientific progress, developing hundreds of new cures and treatments," said Rep. Jerry Nadler. "I am thrilled that the City has decided to continue these fruitful efforts by investing millions in organizations like Columbia University and the New York Stem Cell Foundation, whose work seeks to better prepare our city for future health emergencies and overcome current crises, including COVID-19."
Read more here.
Susan L. Solomon Named to City & State's 'Life Sciences Power 50'
NYSCF CEO Susan L. Solomon, JD, was recently named as one of City and State's 'Life Sciences Power 50' for her visionary leadership of the New York Stem Cell Foundation and its contributions to the growing life science sector of New York City.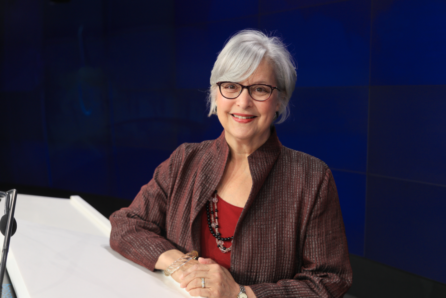 "New York is a hub for groundbreaking life science research, and I am proud that NYSCF plays a critical role in this exciting growth," she said. "Sixteen years ago, NYSCF was a dream, a plan, and two lab hoods. Now, we employ over 100 talented scientists and staff in a 64,000-square-foot research institute, where we are developing the essential technology and translational research necessary to reach cures for the major diseases of our time."
Read more here.