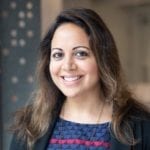 Raeka Aiyar, PhD
Vice President, Scientific Outreach & Diversity, Equity, Inclusion and Belonging at NYSCF
Bio
Raeka Aiyar, PhD, is Vice President of Scientific Outreach & Diversity, Equity, Inclusion and Belonging at the NYSCF Research Institute. She is an experienced geneticist turned science communicator, whose research has focused on applying genomics to the study of disease, with the goal of enabling precision medicine. Trained in genetics and bioinformatics at the University of Waterloo, Canada, she received her PhD in Molecular Genetics from the European Molecular Biology Laboratory (EMBL) and the University of Heidelberg, Germany. During her doctoral and postdoctoral work, she developed and applied genomic technologies to discover new therapeutic targets for mitochondrial ATP synthase disorders. Throughout her career, Dr. Aiyar has led several international and interdisciplinary collaborations in the areas of genetics, precision medicine, functional genomics, mitochondrial diseases, and synthetic biology.
Since her postdoctoral work, Dr. Aiyar has spent years exercising her passion for science communication, engaging a variety of audiences through writing, training, and outreach. As Scientific Communications Officer at EMBL, she supported her lab in manuscripts, presentations, and grants focused on functional genomics. She then took on a broader role to support the genetics research community as Communications and Engagement Manager at the Genetics Society of America. Next, as Director of Communications and Development at the Stanford Genome Technology Center working with Dr. Ron Davis, she led a wide range of efforts in scientific strategy, fundraising, research project management, conference organization, and collaborations.
In her current role at NYSCF overseeing scientific communications and outreach, she supports NYSCF scientists through science writing, communications training, collaboration building, and grants strategy. She leads efforts to disseminate NYSCF's research through various communications materials and initiatives as well as scientific event programming, including overseeing the annual NYSCF Conference. Dr. Aiyar also oversees NYSCF's diversity, equity, inclusion, and belonging (DEIB) efforts across an internal affinity group program, communications, events, health equity research, and grantmaking.
See below for panel discussions moderated by Dr. Aiyar:
Diversifying Stem Cell Biobanks: Towards Inclusive Precision Medicine and Health Equity
New Hope for Women's Reproductive Cancers
Unlocking New Brain Disease Treatments with Artificial Intelligence
Your Aging Brain: The Spectrum From Healthy to Alzheimer's Disease
Defining Parkinson's Triggers and Catalyzing New Therapies
Patients and Scientists Unite to Accelerate Multiple Sclerosis Treatments
Unlocking Rare Disease Treatments with Stem Cells
How Do We Ethically Distribute COVID-19 Vaccines?
Conversation with Experts: Updates on the COVID-19 Fight
Conversation with Experts: How Can Brain Inflammation Lead to Neurodegeneration?
Live Conversation with Experts: Personalizing Cancer Care